Montaña Redonda (Miches) Private 2-in-1 Excursion – With Quad Safari, El Limon Beach, Professional Guide
Chat with our Consultants!
We invite you to an incredible 2-in-1 tour during which you will have the opportunity to visit one of the most popular and beautiful places in the Dominican Republic, offering breathtaking panoramic views, and also get an adrenaline rush during an exciting quad safari through the tropics to the famous El Limon beach.
Our journey begins with private comfortable transportation with a professional guide picking you up from your hotel, and you'll head towards Redonda Mountain.
At Redonda Mountain, you'll be able to admire magnificent views of Punta Cana and the Caribbean coastline. Stunning vistas, the best photo opportunities, and unforgettable emotions are guaranteed. Here, you'll have hammocks for relaxation and swings to make you feel like a bird.
During your tour, non-alcoholic beverages such as water, cola, and sprite will be provided for your convenience. Additionally, upon request and for an extra fee, we can arrange lunch for you on the mountain.
After the breathtaking views, you'll embark on a thrilling 30-minute quad bike journey. Enjoying the untouched tropical nature with its rich flora and fauna, you'll ride agile quad bikes toward El Limon Beach. This is one of the most beautiful beaches where you'll have time to swim in the crystal-clear water, relax, unwind, and savor the sea breeze.
Following this, you'll return on quad bikes to where your transportation awaits, ready to take you back to your hotel. You'll return satisfied and full of emotions.
This will be an incredible adventure combining the stunning landscapes of the Dominican Republic with an adrenaline-filled experience!
Private Montaña Redonda & Quad Safari Tour Program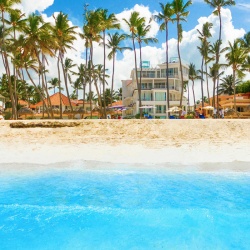 Private Comfortable Transportation
We'll pick you up from your hotel with our comfortable transportation, driven by an experienced driver. During the tour, a professional guide will be with you to make your journey enjoyable and memorable.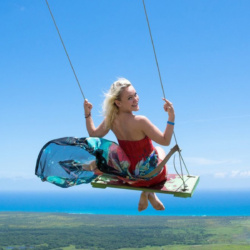 Montaña Redonda
Visit the Redonda Mountain viewpoint, known as the best place for fantastic photos. Stunning views of the Caribbean Sea and Punta Cana's coast await you. Relax in hammocks, enjoy the swings, and complimentary drinks are included. Add lunch for an extra charge if you'd like.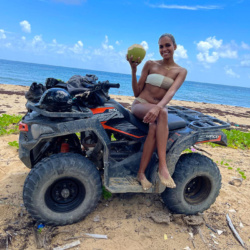 Quad Safiri & Playa El Limon
Experience an incredible rush of emotions and excitement during a one-hour quad safari through the tropics to El Limon Beach. At the beach, you'll have the opportunity to immerse yourself in crystal-clear waters, enjoy the sounds of the sea, and relax on the golden sandy shores. Afterward, you'll return on quad bikes to your transportation, which will take you back home.
Private Montaña Redonda Excursion Details
Approximate pick-up time: 8:00 AM (subject to change upon request)
Duration: ~ 6 hours
What to bring: sunscreen, comfortable clothes and shoes, hat, swimsuit, towel, camera or phone, and money for personal expenses.
An option to include lunch in the tour is available for $15 per person.
Tour Prices:
1-person group:

$360

2-person group:

$430

3-person group:

$500

4-person group:

$570

5-person group:

$640

6-person group:

$710

7-person group:

$780

8-person group:

$850

9-person group:

$920

10-person group:

$990
An additional charge will be applied for pick-ups from the Bayahibe and La Romana areas.
What's Included in the Redonda Tour
Comfortable air-conditioned transfer
Professional multilingual guide
Montaña Redonda Visit
1-Hour ATV Quad Adventure
El Limon Beach stop
Water, cola, and sprite included during the tour
Book this private tour with a quad ride and visit Playa El Limon now for an unforgettable Punta Cana vacation!
There are no reviews yet. Be the first!
Add Review