Montaña Redonda – The Best Panoramic View in the Dominican Republic
Chat with our Consultants!
Montaña Redonda (Redonda Mountain) is an ideal place for nature lovers and for those all who are looking for the best photo spots and inspiration when you travel. It is an unique place due to its height where you feel you can touch the sky with your hands.
Admire all the scenic beauty of the surroundings. Take in the views of the Samaná Bay area, the entire coastline with Playa Rincón and Playa Esmeralda beaches, the eastern mountain range and the Limón or Redonda lagoons.
Relax in a hammock or get on the swing at the top of the viewpoint and have a stunning panoramic view of the beautiful Dominican Republic's nature. The Montaña Redonda has become more popular for the photographs in social media people take on this swings. There are also a cafeteria, gift shops and restaurant available at extra cost.
Montaña Redonda is situated in Miches. This is a small, rural beach town in the El Seibo province. With a population of about 30 thousand people, most residents there are either farmers or fishermen.
Join us for this exciting trip to Redonda Montana from Punta Cana! It's the best option if you want to do a half-day tour and get a lot of positive emotions and impressions.
Montaña Redonda Program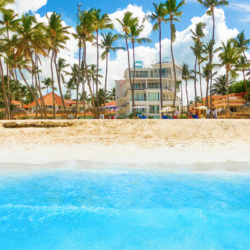 Transportation
Our tour includes pick-up/drop-off from any hotel or pick-up point of Bavaro/Punta Cana and transportation with expert drivers.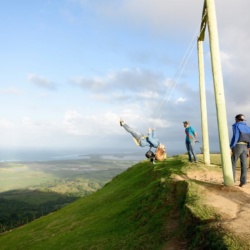 Montaña Redonda
Upon arriving at Redonda Montaña we begin an exciting journey of about 5 minutes. Once you reach the top, you discover the breathtaking landscape, relax in a hammock or get on the swing and make the best photos ever.
Redonda Excursion Details
Sunday, Monday, Tuesday, Wednesday, Thursday, Friday, Saturday
Approximate pick-up time from your hotel or pick-up point: 8 a.m.
Duration: half a day
What to bring:  comfortable clothing, closed shoes, hat, sunscreen, photo camera, sunglasses, good mood.
Any person whose age, physical or mental condition presents a safety risk will not be allowed to participate
No food or beverages included
Please Note: For reservations of 2 or more people, the price is $79 per person. For solo reservations, the price is $158.
What's Included
The best panoramic view from Montaña Redonda
Relaxing in the hammock
The swing above the cliff
Comfortable transportation, modern shuttles with AC – two way included
Pick-up and drop-off is included in the price for most hotels and residences in Bavaro-Punta Cana area. Additional charge may be applied for pick-ups from Uvero Alto, Cap Cana, Miches, Veron, Bayahibe and La Romana.
Hurry up to book your unique Redonda Mountain Tour experience now!
There are no reviews yet. Be the first!
Add Review