Redonda Mountain & Macao Beach 2 in 1 Excursion in Punta Cana
Chat with our Consultants!
For all the lovers of photography and impressive views, as well as everyone who wishes to see the best panoramic view of the Atlantic ocean, we have an amazing excursion to the Round Montain – La Montaña Redonda!
Located not far from Punta Cana and Bavaro, this relatively low mountain has become one of the most popular destinations of this area because of its fantastic panoramic views, beautiful lush vegetation with tropical fruit, a swing right near a cliff, and a hammock – all you need for a romantic or extraordinary photo session or just an adventurous getaway! Redonda Mountain is worth visiting, and if you are ready to enjoy the breathtaking views, book this cheap and the most comfortable excursion to Redonda Mountain now!
Moreover, here we have a surprise for you – you will not only see the unique mountain, but also visit the best wild beach in the area – Macao Beach! It is the center of surfing, the best photo shoots and the largest waves in this touristic area.
Make the most of your day! Order this exclusive 2 in 1 excursion to the most popular touristic sights near Bavaro and Punta Cana – La Montaña Redonda (Round Mountain) and Macao Beach.
Redonda & Macao Excursion Program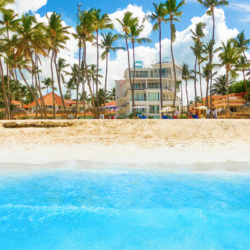 Transportation
Our tour includes pick-up/drop-off from any hotel or pick-up point of Bavaro/Punta Cana and transportation with expert drivers.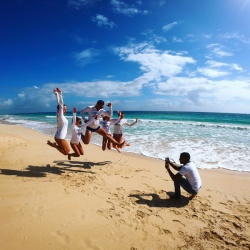 Macao Beach
The most picturesque, featuring large waves, pristine and so heavenly idyllic Macao Beach is a must-see in Bavaro no matter in what hotel or apartment you stay. Enjoy its pristine nature and authentic marine beauty. Don't forget your swimwear!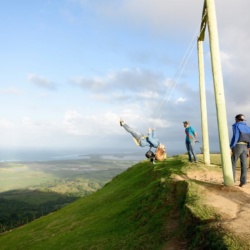 Redonda Mountain
Observe the best panoramic view of the Atlantic ocean and the mountains, relax in the hammock or swing right above the cliff. Here you can take the most remarkable pictures and make a wish! Any wish will come true if you make it on the top of the Redonda Mountain!
Redonda & Macao Excursion Details
Sunday, Monday, Tuesday, Wednesday, Thursday, Friday, Saturday
Approximate pick-up time from your hotel or pick-up point: 9 a.m.
Duration: half a day
What to bring:  comfortable clothing, closed shoes, hat, sunscreen, photo camera, swimwear, sunglasses, good mood.
Beach time on the best pristine beach in Bavaro
Unique panoramic view
Comfortable Transportation included
Pick-up and drop-off is included in the price for most hotels and residences in Bavaro-Punta Cana area. Additional charge may be applied for pick-ups from Uvero Alto, Cap Cana, Miches, Veron, Bayahibe and La Romana.
PROS:
Chill out on the wonderful Macao Beach
Enjoy the best panoramic view in the area from Redonda Mountain
Take unique pictures
Relax in the hammock
Feel real extreme on the swing above the cliff
CONS:
Any person whose age, physical or mental condition presents a safety risk will not be allowed to participate
No food or beverages included
Book your unique Redonda Mountain and Macao Beach experience now!
Reviews: 1
Exceptional! 5/5
Add Review