Montaña Redonda Private Tour from Punta Cana – With Beach Horseback Riding and El Limon Beach Stop
Chat with our Consultants!
Treat yourself to an unforgettable personalized adventure and discover Redonda Montana as one of the most stunning locations in the Dominican Republic. Then, experience the breathtaking Caribbean coastline scenery while horseback riding.
We will pick you up with your private transfer and a professional guide who will make your trip even more interesting and comfortable as you head towards Redonda Mountain.
At the mountain's peak, you will be able to savor panoramic views of emerald beaches, the blue Caribbean Sea, vast tropical forests, as well as the surrounding villages and towns.
Here, you can swing on swings and take stunning photographs, relax in a hammock, and enjoy complimentary water, cola, and sprite during your journey.
Afterward, an adventure awaits you as you reconnect with nature, riding on beautiful horses, and marveling at the untouched beauty of the landscape, the sea breeze, and the stunning views of El Limon Beach. You will have the opportunity to immerse yourself in the clear waters of the Caribbean Sea and relax on the golden sandy shores.
After a day filled with thrilling emotions and unforgettable landscapes, we will transport you comfortably back home.
Upon your request, we can add lunch for an additional fee of $15 per person.
Montaña Redonda & Beach Horseback Riding Program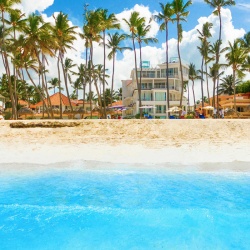 Private Comfortable Transportation
Your journey begins with a comfortable transfer from any hotel in the Punta Cana, Cabesa, and Uvero Alto regions. A multilingual professional guide will accompany you throughout the entire tour.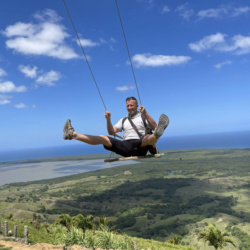 Montaña Redonda
Visit one of the most popular and beautiful places in the Dominican Republic. From Redonda Mountain, you'll be treated to magnificent views of the Caribbean coastline, nearby villages, and lush vegetation. Relax in a hammock, enjoy the swings, and, of course, capture the best photos of your life.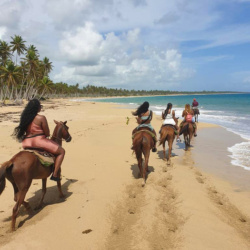 Horeseback Ride & El Limon Beach
Riding on horseback, you'll experience a wave of positive emotions and explore the coastline of the renowned Playa El Limon. Make a stop on the fine golden sands and take a dip in the crystal-clear waters.
Private Redonda Mountain Excursion Details
Approximate pick-up time: 8:00 AM (subject to change upon request)
Duration: ~ 6 hours
What to bring: sunscreen, comfortable clothes and shoes, hat, swimsuit, towel, camera or phone, and money for personal expenses.
An option to include lunch in the tour is available for $15 per person.
Excursion Prices:
1-person group:

$320

2-person group:

$350

3-person group:

$380

4-person group:

$410

5-person group:

$440

6-person group:

$470

7-person group:

$500

8-person group:

$530

9-person group:

$560

10-person group:

$590
An additional charge will be applied for pick-ups from the Bayahibe and La Romana areas.
What's Included in the Redonda Mountain Tour
Comfortable air-conditioned transfer
Professional multilingual guide
Montaña Redonda Visit
1-hour horseback ride
El Limon Beach stop
Water, cola, and sprite included during the tour
Book your private tour to Redonda Mountain to ensure an unforgettable Punta Cana vacation!
There are no reviews yet. Be the first!
Add Review