Swimming with Dolphins in Punta Cana – Top Adventure 2023 (50 minutes)
Chat with our Consultants!
Are you ready for an unforgettable dolphin swim experience in Punta Cana? Contact with dolphins will give you incredible joy and a lot of positive emotions!
Enjoy adventurous interaction with a dolphin! Discover how the dolphin can teach you to dance or take you for a ride as you grasp the dorsal fin and the pectoral flippers! Learn how to cue and amaze as the dolphin leaps right over you. And even get a dolphin kiss – it will be something you won't forget for the rest of your life!
If you are tired of just lying on the beach and sipping unlimited all-inclusive cocktails, join this trip and explore a real 50 minutes adventure that the dolphin can share with you! In addition, you will have an opportunity to learn some interesting facts about dolphins, as well as tips and advice for swimming and communicating with them. Take this incredible chance while you are traveling in Punta Cana!
Dolphins Excursion Program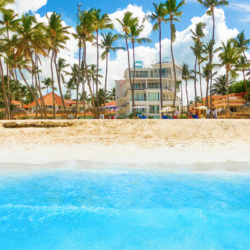 Departure from the pick-up point
Our tour includes pick-up/drop-off from any hotel or pick-up point of Bavaro/Punta Cana and transportation in modern buses with expert drivers.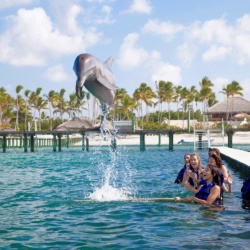 Dolphin Introduction
Welcome to your personal introduction to the dolphins! Our trainers will coach you, teaching the rules of communication and the secrets of their behavior.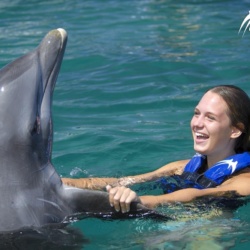 Swimming with the Dolphin
50 minutes adventurous interaction with the dolphin. Please, mind that you should have at least intermediate swimming skills to participate in this adventure.
Dolphins Excursion Details
Sunday, Monday, Tuesday, Wednesday, Thursday, Friday, Saturday
Approximate pick-up time from your hotel or pick-up point: 7 a.m./9 a.m./ 10 a.m./12 p.m. (schedules subject to availability)
Duration: 2.5 hours
What to bring: Swimming suit, sunscreen, sun glasses, towels, good mood.
Comfortable Transportation
50 minutes of adventurous swimming with the dolphin
Adults who do not participate in the program but accompany children or partners are required to pay $35
Pick-up and drop-off is included in the price for most hotels and residences in Bavaro-Punta Cana area. Additional charge may be applied for pick-ups from Uvero Alto, Cap Cana, Miches, Veron, Bayahibe and La Romana.
RULES:
Children taller than 1 meter can participate if they have at least intermediate swimming skills
All participants should have at least intermediate swimming skills
Pregnant women are not allowed to participate
The maximum number of participants per group is 12
There will be one dolphin per group
PROS:
50-minutes interact with the dolphin
CONS:
There may be many people on this excursion
Book your explorer swimming with dolphins now!
There are no reviews yet. Be the first!
Add Review