Extreme Swimming with Dolphins in Punta Cana! + Sea Lions, Fur Seals, Sharks and Rays
Chat with our Consultants!
Looking for a water experience loaded with adrenaline, fun, love, and unforgettable emotions? Extreme swimming is what will make your day! Three interactions combined in one fantastic program, including swimming with dolphins, fur seals, rays and sharks.
Get to know these wonderful sea creatures who will leave your heart full of love and your mood full of joy. Children allowed to participate should be at least 1 meter tall and should know how to swim. Intermediate swimming skills are an absolute must for all the participants. Pregnant women are not allowed to participate.
Dolphins Excursion Program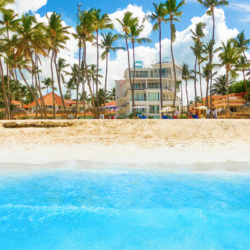 Departure from the pick-up point
Our tour includes pick-up/drop-off from any hotel or pick-up point of Bavaro/Punta Cana and transportation in modern buses with expert drivers.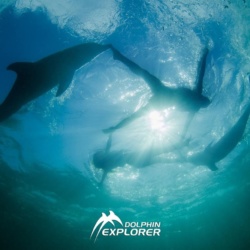 Swimming with Two Dolphins
60 minutes adventurous and extreme interaction with two adorable dolphins. Dolphins will leap above your head, and the trainers will help you to master the footpush when the dolphins push you across the water surface at full speed.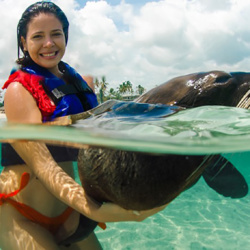 Swimming with Fur Seals
Interaction with adorable fur seals. You will appreciate their speed and agility.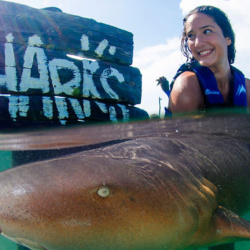 Swimming with Sharks and Rays
Are you afraid of sharks? Are rays dangerous? Well, it is time to answer these questions and get a real experience loaded with adrenaline! Touch a shark and a ray and feel like a real explorer!
Dolphins Excursion Details
Sunday, Monday, Tuesday, Wednesday, Thursday, Friday, Saturday
Approximate pick-up time from your hotel or pick-up point: 8:40 a.m./9:40 a.m./ 10:40 a.m./1:10 p.m.
Duration: 3.5-4 hours (show + 3 interactions)
What to bring: Swimming suit, sunscreen, sun glasses, towels, good mood.
Comfortable Transportation
Unique Birds and Sea Lions Show
Interaction with 2 dolphins
Interaction with a fur seal
Interaction with a shark and a ray
Pick-up and drop-off is included in the price for most hotels and residences in Bavaro-Punta Cana area. Additional charge may be applied for pick-ups from Uvero Alto, Cap Cana, Miches, Veron, Bayahibe and La Romana.
RULES:
Children taller than 1 meter can participate if they have at least intermediate swimming skills
All participants should have at least intermediate swimming skills
Pregnant women are not allowed to participate
PROS:
Enjoy the unique show
Have 3 interactions on the same day
CONS:
There may be many people on this excursion
Book your extreme swimming program now!
Reviews: 1
Exceptional! 5/5
Add Review