La Hacienda Park – Punta Cana
Chat with our Consultants!
La Hacienda is a large private ranch offering 7 different activities to its guests with the ultimate modern security system. All activities are available at the prcie of US$99! La Haciena offers Buggy Polaris, Horseback Riding, Safari, Zipline, Quick Jump, Cable Way and 100% Dominican Buffet. All these activities open you a way to an authentic local experience, with much fun and joy! Do not miss a chance to enjoy them all at a unique price – only US$99!
La Hacienda Activities
Buggy Polaris (45-55 minutes)
An unforgettable adventure in wild nature on Buggy Polaris. The route is especially elaborated for you to ride on the buggy in the most extreme road conditions. You will make a stop at the Anamuya river to dive into its crystalline waters and feel like new before your next adventure.
Horseback Riding (45-55 minutes)
Discover wild surroundings of the Anamuya river riding on the best horses of the Dominican Republic living in natural environment on the Dominican ranch with modern facilities.
Safari (45-55 minutes)
An amazing breath-taking ride through the Dominican countryside on a real American military truck. During the journey, you will visit the plantations of coffee, cocoa, sugar cane, as well as a Dominican village where you will observe the daily living of local residents and try their local produce.
Zipline (60-65 minutes)
Fly on 5 impressive ziplines observing two mountain peaks and a picturesque mountain valley. You can enjoy the longest zipline route in the Caribbean with a lengh of more than 1 kilometer. The zipline develops the speed of up to 70 km/hour.
Quick Jump (5 minutes)
By the end of the fifth zipline, you may make a quick jump from the height of 20 meters or go down descending the ladder.
Cable Way (15 minutes)
Unique of its kind in the country. It is the first cable way in the Dominican Republic that will take the visitors from the base to the peak of the mountain, where they can enjoy impressive unforgettable views over the wild nature and the surrounding of the Anamuya river and the Caribbean Sea.
100% Dominican Buffet
Enjoy an exclusive buffet lunch after the activities on the ranch. All guests can taste typical Dominican food: pumpkin cream soup, typical Dominican meat soup – Sancocho, fish in coconut souce, or rice with milk, fresh vegetables and fruit.
La Hacienda Excursion Program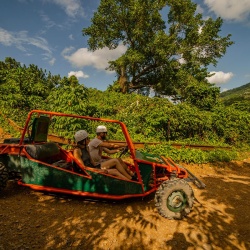 Transportation
We provide comfortable transportation from all Bavaro and Punta Cana hotels. The way to the park takes about 50 minutes from the last pick-up point.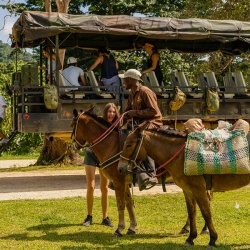 La Hacienda Activities
Once you have arrived at the ranch, you are met by its personnel. You can try any activities from the list. It is a one-day excursion, during which you will enjoy any activities for the same price and learn a lot about Dominican country life.
La Hacienda Excursion Details
Approximate pick-up time: Around 8 a.m.
Take with you: comfortable footwear, additional set of clothes, swimwear, sunscreen, towel, sunglasses, cash for tips and photos
What's Included
Comfortable Transportation
Any activities at the ranch
First-class security system
Degustation of various local products (coffee, chocolate, sugar)
Potable water throughout the excursion
Traditional Dominican lunch (not all beverages are included)
Pick-up and drop-off is included in the price for most hotels and residences in Bavaro-Punta Cana area. Additional charge may be applied for pick-ups from Uvero Alto, Cap Cana, Miches, Veron, Bayahibe and La Romana.
Pros:
All activities for the same price of US$99
Water is included throughout the excursion
Lunch is included
Kids less than 90 cm tall can participate free of charge
There is a medical aid office in the park
You can buy photos of you during the activities after the excursion
La Hacienda Kids: there is a special area for kids who do not want to participate in activities for adults.
Cons:
Not all beverages are included in the lunch. Some drinks should be paid.
Other terms and conditions:
Visitors less than 120 cm tall and whose weight is over 113 kilos are not allowed to participate in Zipline, Horseback Riding and Quick Jump activities.
Pregnant women can only participate in Safari and eat in the buffet.
You can use photocameras and videodevices, as well as smartphones, during all activities except for Quick Jump, Horseback Riding and Zipline.
To conduct buggy, you need driver's license and be of legal age (>18 years old).
Helmet must be used during all activities for security purposes.
There are no reviews yet. Be the first!
Add Review