VIP Extreme Slingshots Ride in Punta Cana
Chat with our Consultants!
VIP Slingshots Ride – the best way to enjoy the experience of driving and to get an adrenalin rush and unforgettable impressions. It is one of the most exclusive and unique excursion in Punta Cana!
Try something special with VIP adventure in modern slingshots, where you will get a lot of extreme emotions and enjoy the route with stunning views around. This is a wonderful evening trip to Cap Cana with stops at Marinas, where you will have a chance to walk around the pier with beautiful yachts, look at old style buildings and visit a tropical-style disco bar. And also you will enjoy the Cap Cana night views!
So, if you want something special and exclusive in Punta Cana, then you should choose this VIP Extreme Slingshots Ride!
Slingshots Ride Program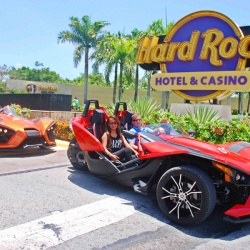 Departure and Safety Breafing
The trip stars from any hotel or pick-up point, where we will conclude a slingshot rental contract (it usually takes about 5 minutes). Before your adventure begins, you will listen to safety instructions and Slingshot by Polaris vehicle orientation.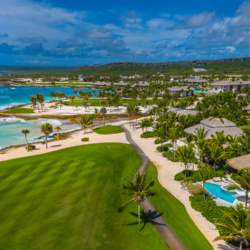 Marina 1 and 2
The road to Cap Cana takes about 30 minutes and the first stops on your way will be Marina 1 and 2. Here you'll really enjoy the views of old style buildings and walking around the pier with luxury yachts.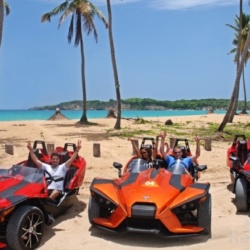 Disko Bar in Scape Park
Tropical-style Disco Bar - is worth visiting place while traveling towards Cap Cana.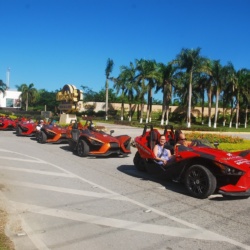 Night Cap Cana
The last stop is on the bluff where you can see all night Cap Cana. You will be amazed by these mesmerising views and this trip will forever remain in your memory.
Slingshots Ride Details
Sunday, Monday, Tuesday, Wednesday, Thursday, Friday, Saturday
Approximate pick-up time from your hotel or pick-up point: 6.00 p.m. depending on your hotel location.
Duration: about 4 hours
What to bring:comfortable clothes (for a night out), driver's license, good mood.
Departure directly from you hotel
Unique Extreme Slingshot Experience
Price per passenger – $50
What's included?
Round trip transfers
Free 3 water and 1 bottle of champagne with 2 glasses
Slingshot ride
What's not included?
Food
Professional photos
Tipping, souvenirs
Additional consumption
Special Slingshot Ride rules and notes:
All drivers must know how to drive standard shift mechanic transmission cars.
Minimum age of drivers is 18 years old. Co-pilots should be at least 5 years old.
The organizer reserves the right to refuse the service or to cancel the excursion at any time if:
– The participant does not have enough experience on shift transmission cars.
– The participant is under the influence of alcohol or any other illegal substance.
– The participant does not follow the safety rules or puts the excursion at risk.
– The participant does not respect the Dominican Republic traffic law.
Unresponsible driving shall incur into anticipated cancellation of the excursion without the right to any partial or total refund.
KEY BENEFITS:
Enjoy the unique speedy Slingshot Ride
See the most beautiful wild beach of the area
Buy local souvenirs
PAY ATTENTION:
Any person whose age, physical or mental condition presents a safety risk will not be allowed to participate
Book Extreme Slingshots Ride in Punta Cana in Punta Cana to make your vacation unforgettable now!
There are no reviews yet. Be the first!
Add Review