Extreme Slingshot Ride in Punta Cana
We dare you to go on the extreme Slingshot ride in Punta Cana! Riding Slingshot by Polaris will leave you full of drive and adrenaline! Departing from Hard Rock Hotel & Casino, you will drive to the most famous wild beach in the area – Macao beach. Enjoy the Caribbean view and revitalize yourself with fresh coconut water. Are you ready for even more adventures? Then, we will guide you to Downtown Punta Cana so that you can take pictures near famous Coco Bongo night club and learn about its special offers. Besides, there, local craftsmen will show you how to roll cigars and treat you to samples of the best rums. You can buy some souvenirs for your friends and family there, as well as eat ice-cream on the house! After returning to Hard Rock Hotel, you can opt for a guided tour through the hotel commercial boulevard and see the Rock Memorabilia® corridor, including the famous Madonna's limousine.
Excursion Program
Departure from the pick-up point
Our tour includes pick-up/drop-off from any hotel or pick-up point of Bavaro/Punta Cana and transportation in modern buses with expert drivers.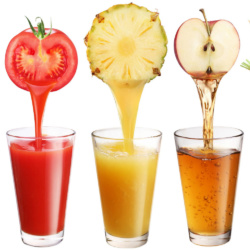 Safety Briefing
Once our expert drivers have delivered you to Hard Rock Hotel & Casino, you will listen to safety instructions and Slingshot by Polaris vehicle orientation.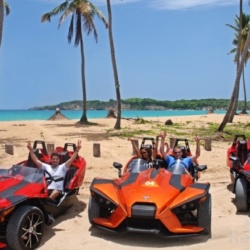 Macao Beach
From the hotel you will drive to famous Macao beach, by the way observing the life of the locals in Macao village. On the beach, you will be impressed by a picturesque landscape. So, don't forget your camera! Take unique pictures! Revitalize yourself with fresh coconut water, and there we go to our next stop!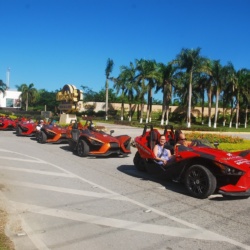 Punta Cana Downtown
Visit the center of Bavaro, where on a small commercial square, you will see craftsmen rolling cigars and offering you samples of local rum. There you can buy souvenirs stress-free and try authentic local produce. Besides, we will be glad to show you an ice-cream shop, where hospitable Dominican people will treat you to one ice-cream on the house! Enjoy it!
Schedule
Sunday, Monday, Tuesday, Wednesday, Thursday, Friday, Saturday
Approximate pick-up time from your hotel or pick-up point: 8 a.m./ 11 a.m./ 1.30 p.m. / 4 p.m.
Duration: about 2 hours
What to bring: camera, some money for shopping, sun glasses, good mood.
What's included in the Extreme Slingshot Ride? 
+ Comfortable Transportation, modern shuttles with AC – two way.
+ Unique Extreme Slingshot Experience
+ One free ice-cream at Downtown ice-cream shop
+ Optional: Guided tour in Hard Rock Hotel&Casino commercial boulevard, subject to previous reservation on the day of booking!
Special Rules:
All drivers must know how to drive standard shift mechanic transmission cars.
Minimum age of drivers is 18 years old. Co-pilots should be at least 5 years old.
The organizer reserves the right to refuse the service or to cancel the excursion at any time if:
The participant does not have enough experience on shift transmission cars.
The participant is under the influence of alcohol or any other illegal substance.
The participant does not follow the safety rules or puts the excursion at risk.
The participant does not respect the Dominican Republic traffic law.
4. Unresponsible driving shall incur into anticipated cancellation of the excursion without the right to any partial or total refund.
PROS:
Enjoy the unique speedy Slingshot Ride
See the most beautiful wild beach of the area
Buy local souvenirs and get free samples of rum
Eat delicious ice-cream on the house
CONS:
Any person whose age, physical or mental condition presents a safety risk will not be allowed to participate
Book your unique Extreme Slingshot Ride now!
Reviews: 1
Exceptional! 5/5
Add Review