Extreme Slingshots Ride in Punta Cana
Chat with our Consultants!
Slingshots Ride – the best way to enjoy the experience of driving and to get an adrenalin rush and unforgettable impressions. It is one of the most exclusive and unique excursion in Punta Cana!
We invite you on an unforgettable journey on modern slingshots, where, in addition to extreme emotions, you will enjoy the route and the views around. During your fantastic trip there will be stops at Macao beach, swimming in the lagoon and Downtown walking.
So, if you want something special and exclusive in Punta Cana, then you should choose this Extreme Slingshots Ride!
Slingshots Ride Program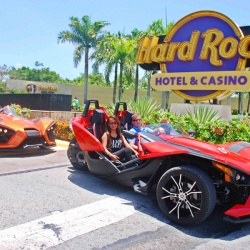 Departure and Safety Breafing
Trip stars from any hotel or pick-up point, where we will conclude a slingshot rental contract (it usually takes about 5 minutes). Before your adventure begins, you will listen to safety instructions and Slingshot by Polaris vehicle orientation.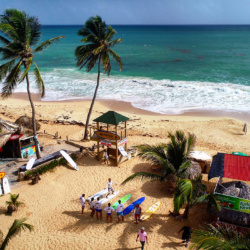 Macao Beach
First you will drive to famous Macao beach, by the way observing the life of the locals in Macao village. On the beach you will have about 1 hour to swim and to take a pictures. In additional there is a seafood lunch or fruit coctails. You will be impressed by a picturesque landscape. Enjoy the best panoramic view ever!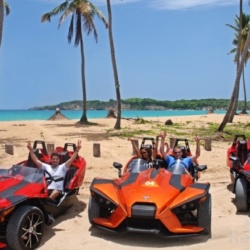 Macao Lagoon
After the beach we are going to beautiful Lagoon Macao, where you can duck into a deep refreshing lagoon, swim in clean water and take a best photos. This stop will last about 30 minutes.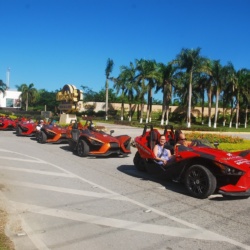 Downtown
The third stop is a Downtown, where you will have about 40 minutes to walk and visit the most interesting places. And after this we return back to the hotel in slingshots.
Slingshots Ride Details
Sunday, Monday, Tuesday, Wednesday, Thursday, Friday, Saturday
Approximate pick-up time from your hotel or pick-up point: 9.00 a.m. depending on your hotel location.
Duration: about 5 hours
What to bring: driver's license, bandana or cap on your head, swimsuits, some money for shopping, sun glasses, sunscreen, good mood.
Departure directly from you hotel
Unique Extreme Slingshot Experience
Price per second passenger – $50 (2 passengers max)
What's included?
Round trip transfers
Free 3 water and 2 drinks (coca or sprite)
Slingshot ride
What's not included?
Lunch, fruit coctails
Professional photos
Tipping, souvenirs
Additional consumption
Special Slingshot Ride rules and notes:
All drivers must know how to drive standard shift mechanic transmission cars.
Minimum age of drivers is 18 years old. Co-pilots should be at least 5 years old.
The organizer reserves the right to refuse the service or to cancel the excursion at any time if:
– The participant does not have enough experience on shift transmission cars.
– The participant is under the influence of alcohol or any other illegal substance.
– The participant does not follow the safety rules or puts the excursion at risk.
– The participant does not respect the Dominican Republic traffic law.
Unresponsible driving shall incur into anticipated cancellation of the excursion without the right to any partial or total refund.
KEY BENEFITS:
Enjoy the unique speedy Slingshot Ride
See the most beautiful wild beach of the area
Buy local souvenirs
PAY ATTENTION:
Any person whose age, physical or mental condition presents a safety risk will not be allowed to participate
Book Extreme Slingshots Ride in Punta Cana to make your vacation unforgettable now!
Reviews: 1
Exceptional! 5/5
Add Review