Extreme Slingshots Ride in Punta Cana
Chat with our Consultants!
Slingshots Ride is the best way to enjoy the experience of driving and to get an adrenaline rush and unforgettable impressions. It is one of the most exclusive and unique ways to explore the region in style, on an open-air comfort Slingshot vehicle. Discover the best of Punta Cana!
We invite you to an unforgettable journey on modern slingshots, where, along with experiencing extreme emotions, you will enjoy the route and the surrounding views. During your fantastic trip, there will be three different stops in Punta Cana, making your journey more diverse.
We'll begin at Macao Beach, famous for its white sands and clear blue waters. You can swim, sunbathe, and relax by the ocean. It's a beautiful tropical paradise, perfect for amazing photos.
The next stop brings us to the Bella Mare Shopping Mall. This is your opportunity to do some shopping. Whether you want souvenirs, local crafts, or fancy brands, the mall has lots of choices.
The last stop is the famous Casita de Yeya Restaurant. It's a cozy place where you can enjoy tasty Dominican food made from fresh local ingredients. They serve yummy seafood, delicious plantains, and other special Dominican dishes.
Riding in a slingshot makes your whole journey more exciting and stylish. The slingshot is a unique three-wheeled vehicle that's like a mix of a motorcycle and a car. It's open, so you can enjoy Punta Cana's nature, feel the warm breeze, and see the pretty views while you drive around.
Experience the beauty of the Dominican Republic, go shopping, and savor tasty local food, all while cruising in a stylish slingshot – and you can do it all in just one day!
Slingshots Ride Program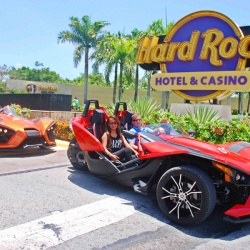 Departure and Safety Briefing
Trip stars from any hotel or pick-up point, where we will conclude a slingshot rental contract (it usually takes about 5 minutes). Before your adventure begins, you will listen to safety instructions and Slingshot by Polaris vehicle orientation.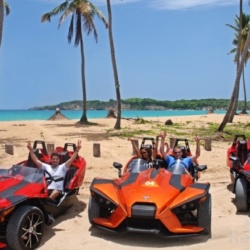 Macao Beach
First you will drive to famous Macao beach. There you will have time to swim, tan, relax and to take pictures. You will be impressed by the picturesque landscape. Enjoy the best panoramic view ever!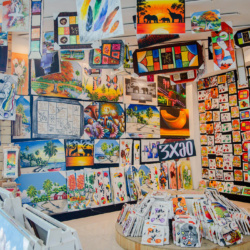 Bella Mare Shopping Mall
Our next stop is the Bella Mare Shopping Mall. Enjoy some shopping and check out different stores. Souvenirs, local crafts, fancy brands - you will find whatever you want here. Take your time and find special things to remember your trip.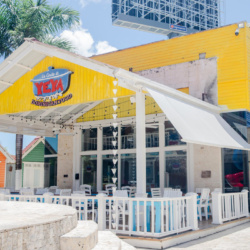 Casita de Yeya Restaurant
The final stop is the renowned Casita de Yeya Restaurant. This atmospheric establishment serves delicious traditional Dominican cuisine, allowing you to savor flavorful seafood, mouthwatering plantains, and other delectable Dominican specialties prepared with fresh local ingredients. Your visit promises to be an unforgettable culinary experience!
Slingshots Tour Details
Available on Sunday, Monday, Tuesday, Wednesday, Thursday, Friday, Saturday
Approximate pick-up time from your hotel or pick-up point: 3:00 p.m. (depending on your hotel location)
Duration: about 3 hours
What to bring: driver's license, swimsuits, towel, some money for shopping, sunglasses, sunscreen, good mood.
Tour price: $200 per vehicle (1 or 2 people).
What's included in the tour price?
Round trip transfers
Stop at Macao Beach
Stop at Bella Mare Shopping Mall
Dominican lunch at Casita de Yeya's Restaurant
Pick-up and drop-off are included in the price for most hotels and residences in the Bavaro-Punta Cana area. An additional charge may be applied for pick-ups from Uvero Alto, Cap Cana, Miches, Veron, Bayahibe and La Romana.
Special Slingshot Ride Rules & Notes:
All drivers must know how to drive standard shift mechanic transmission cars.
Minimum age of drivers is 18 years old. Co-pilots should be at least 5 years old.
The organizer reserves the right to refuse the service or to cancel the excursion at any time if:

The participant does not have enough experience with shift transmission cars.
The participant is under the influence of alcohol or any other illegal substance.
The participant does not follow the safety rules or puts the excursion at risk.
The participant does not respect the Dominican Republic traffic law.

Irresponsible driving shall incur into anticipated cancellation of the excursion without the right to any partial or total refund.
Key Benefits of Slingshots Tour:
Enjoy the unique speedy slingshot ride
See the most beautiful wild beach in the area
Best shopping opportunity
Dine at the renowned restaurant
Tips to keep in mind during this tour: any person whose age, physical or mental condition presents a safety risk will not be allowed to participate
Book slingshots ride in Punta Cana to make
your vacation unforgettable now!
Reviews: 1
Exceptional! 5/5
Add Review