Polaris VIP Ride & Zip Line at Bávaro Adventure Park, Punta Cana
Chat with our Consultants!
Bávaro Adventure Park in Punta Cana is the perfect place for those who are seeking adventures in the area of Bávaro and Punta Cana. The park covers an area of 44 ha! There is 5.5 km of ecological trails where among the untouched nature there are 15 different attractions for anyone.Here you can experience different types of activities in one day.
Polaris VIP Ride & Zip Line package is one of the most popular packages of all the children and adults at Bávaro Adventure Park! Get the most out of your visit and try two best entertainment at time.
Let yourself feel the most varied emotions and impressions in one day during the best Polaris VIP Ride in Punta Cana! Enjoy gorgeous views and get a drive from the off-road driving. Admire the Caribbean Sea and visit Cabo Engaño, the easternmost cape where the Caribbean Sea meets the Atlantic Ocean!
Then a Zip Line adventure awaits you! You will feel incredible emotions and adrenaline rush going down 6 zip lines. Enjoy a breathtaking view as you zip down and land in a refreshing pool!
After an active day full of emotions you will be very pleased to plunge into our waterfall pool! Relax and enjoy the waterfall's sound!
Do you want to make your stay in Punta Cana the most unforgettable and full of adventure? So, choose this Polaris VIP Ride & Zip Line adventure package!
Polaris VIP Ride & Zip Line Program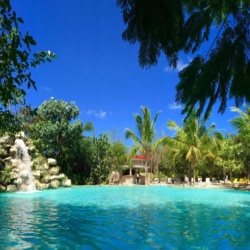 Transportation
We provide pick-up/drop-off from any hotel of Bavaro/Punta Cana touristic zone and take you to the Adventure Park where an unforgettable experience awaits you.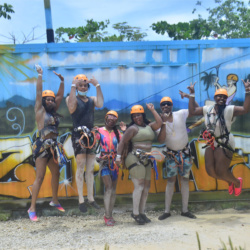 Security Briefing
You will get a brief instruction for your safe, comfortable and pleasant adventure. And also you will be provided with all the necessary safety equipment.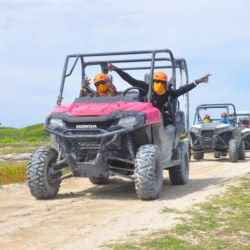 Polaris VIP Ride
Enjoy the experience of driving along the coast, with unique views and feel the breeze of the Caribbean Sea. Visit Cabo Engaño, the easternmost cape where the Caribbean Sea meets the Atlantic Ocean!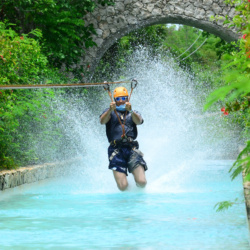 Zip Line Activity
A full fun experience enjoying a 6 lines circuit with a Himalayan Bridge and the exiting Mega Splash cable landing in the water! Incredible views and extreme charge!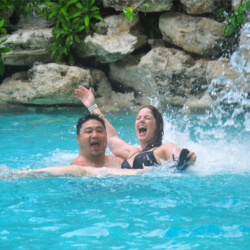 Waterfall Pool & Lunch
Enjoy amazing waterfall pool with more than 400 square meters and very tasty Dominican lunch after an active day!
Polaris VIP Ride & Zip Line Details
Sunday, Monday, Tuesday, Wednesday, Thursday, Friday, Saturday
Approximate pick-up time: 7.50 am/10.50 am/12.50 pm. depending on your hotel location.
Duration: 6 hours
What to bring: digital or a printed voucher, light and comfortable clothing, sport closed shoes for activities, towel and bathing suit, sunscreen protector, additional change of clothes, cash or credit card for souvenirs, pictures, snacks and drinks, tips, lockers
What's included?
Round trip transfers from your hotel to the park
Free drinking water throughout the park
Polaris Ride
Zip Line activity
Visit to Cabo Engaño
Waterfall pool
Typical Dominican Lunch
1 adjustable harness, 2 pulleys, 1 safety line, 1 helmet per a client
Pick-up and drop-off is included in the price for most hotels and residences in Bavaro-Punta Cana area. Additional charge applied for pick-ups from Uvero Alto, Cap Cana, Miches, Veron, Bayahibe and La Romana.
What's not included?
Lockers
Bandanas and google lens
Pictures, tipping, souvenirs, drinks, and snacks
Additional consumption
What's not allowed?
To use cell phones and/or cameras
Wear hats, caps, bags or purses
Wear flip-flops
Special rules and notes for Polaris VIP Ride & Zip Line
Seating in the car depends on the number of people in the booking: 2, 3, or 4 people in each Polaris buggy. Any remaining seats may be occupied by other individuals
If someone wishes to have a personal two-seater car, there is an additional charge of $50 for a Polaris buggy
During the activities, the use of phones or cameras is not permitted
Drinks and photos are not included
Hats, caps, and flip-flops are not allowed; footwear must be closed and securely fastened
Bags, backpacks, and wallets are not allowed; all personal items should be left in lockers
Lockers are available and come at an additional cost, with prices ranging from $6 to $9 depending on the locker size
We don't recommend to perform certain activities to people who suffer any disease like coronary, cardiovascular, heart failure, respiratory or physical injury, balance and/or vertigo problems, panic attacks, overweight, among other conditions that prevent it from participating safely in the activities
We don't recommend certain activities to pregnant women
Maximum attention capacity of 30 adventures per hour
Mandatory, the driver must be at least 18 years old and have a valid driver's license, which will be requested
Minimum age is 6 years
Minimum height is 130 cm
Maximum weight is 120 kg
Transfer available at extra cost for: Bayahibe (US$ 10p/p); La Romana (US$ 20p/p); Juan Dolio/Boca Chica (US$ 30 p/p)
KEY BENEFITS:
Throughout the park, you can find free hydration points with potable water
A thrilling off-road experience
No public roads and maximum security
Lunch included
PAY ATTENTION:
Attractions may be temporarily closed without prior notice! For instance, it may happen because of weather conditions, maintenance or other reasons
Kids pay full price
The driver must have a valid license and to be at least 18 years old
Book the Polaris VIP Ride & Zip Line to make your vacation in Punta Cana unforgettable now!
There are no reviews yet. Be the first!
Add Review