Extreme Offroad Buggy Adventure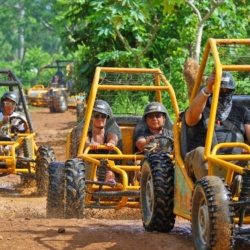 Enjoy driving experience
Start your driving experience and enjoy a crazy ride on Flinstone style buggy cars
Rancho
Visit a nice sleepy country plantation for an intro on some of the Dominican Republic's most sought-after production: cacao, coffee, tobacco and Mamajuana (a Dominican aphrodisiac elixir). Yes, you can drink and drive here… Back into the rocky off-road and then…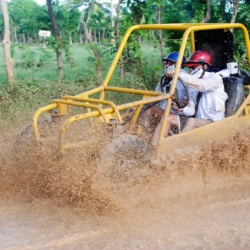 Off-road driving experience
Drive to visit Tainos Lagoon - the cave of ancient local indian people. Enjoy the ride
Visit the lagoon, jump in and refresh yourself
Go to amazing cave. Enjoy fresh water and unique cave. Jump in, cool down and wash off but not for long! Then, the longest stretch of your drive is also the largest contrast. From the hidden countryside cave, we retrace our muddy path, and then some, to the pristine beach.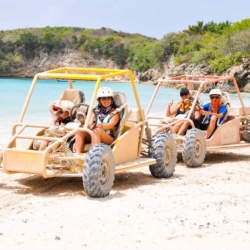 Enjoy driving experience to Macao Beach
The longest drive to Macao beach enjoy a crazy ride with dust, dirt and rocky roads
Enjoy one of the most beautiful beach in the DR
Macao Beach. One of the last 'resort free' coastal stretches of Punta Cana, Macao is the idealistic Caribbean shore with amber sands, rows of coconut palms and azure waters.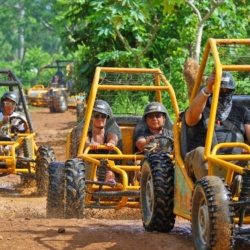 Enjoy driving experience
Start your driving experience and enjoy crazy ride on Flinstone style buggy cars
Going back to pick up point
We will drive you to your pick up point.
Schedule
Monday-Sunday (Evry day)
7-8 AM / Second turn Afternoon (1pm – 3pm)
Pick up time and location vary depending on the hotel or pick up point.
We will contact you with the exact location.
Duration – 3-4 hours.
What's Included in Buggy Adventure Punta Cana
Round trip transport
Guides
Buggy trip
Macao Beach
Ranch visit with organic coffee and cacao shop.
What to bring:
Old clothing (You may get muddy)
Swimming suit
Bug Spray (Optionally)
Flip flops or water shoes
Sunglasses or goggles
Bandana or small towel to cover your face (you can buy one there though)
Towel (optionally)
Camera
Sunscreen
Some Cash
Cons:
Pushy vendors on Macao beach. I would avoid them.
Sometimes you have to wait in the line
Sometimes transportation is a mess, but what you pay is what you get. How to avoid it? Book it private!
The cave can be crowded
Pros:
Amazing driving activity. You will have a lot of fun.
You visit the Cave (cenote)
Automatic transmission
Macao beach – one of the most beautiful places in the DR.
Attention: There are no age restrictions. But you must be 18 years old to drive!
What are you waiting for? Buggies are insanely popular in Punta Cana. Book buggy adventure Punta Cana now to guarantee your reservation.
Reviews: 5
Exceptional! 5/5
Add Review