Scape Park in Punta Cana – Full Admission + Sunshine Cruise
Chat with our Consultants!
This is an unforgettable experience for everyone who wants to live a real adventure in the tropical paradise of Scape Park and cruise along stunning beaches, snorkel in tropical waters or just relax in an exclusive beach club! Scape Park Full Admission and Sunshine Cruise package is waiting for you!
By the way, the Scape Park features the most exciting attractions in the area: zip-line, cave expedition, transparent Hoyo Azul lagoon, cultural sights and many more. Have fun at Scape Park's attractions and eat a delicious all-inclusive buffet lunch between the activities. You will also have a unique opportunity to cruise along stunning beaches, snorkel in tropical waters or just chill out on the beach. The excursion includes transportation from any Bavaro/Punta Cana hotel. Scape Park Full Admission and Sunshine Cruise package is what you are looking for!
Scape Park Excursion Details
This excursion is available only on Monday, Wednesday, and Friday
Approximate pick-up time from your hotel or pick-up point: 8 a.m.
Excursion duration: 9 hours (+about 30 minutes for transportation)
What to bring: sport footwear, comfortable clothing, swimsuit, towel, sunglasses, towel, sun protection cream, cash/credit card (to buy souvenirs), good mood
Scape Park. What's included?
Comfortable two way transportation. The tour includes pick-up and drop-off from any hotel or area of Bavaro/Punta Cana in modern buses with air conditioning and expert drivers
Amazing 7 Quality Scape Park Attractions included: Zip-line Eco Splash, Saltos Azules, Iguabonita Cave, Hoyo Azul, Cultural Route, Cave Swim, Exotic Animals Experiances. Details below
Access to Kids Playground (Eco Kids Village: from 2 to 12 years old)
Beach Getaway (drinks for extra charge). Private Beach Club. Non-motorized watersports
Dominican buffet lunch
Sunshine Cruise !!!
Scape Park Main Attractions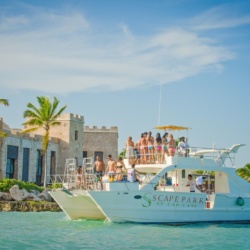 Sunshine Cruise
In this optional tour, you will cruise along the stunning coastline of the exclusive Cap Cana resort in our spacious catamaran followed by a breathtaking snorkeling experience at Bucaneros reef. Afterwards, we will stop at Juanillo bay where you can relax while enjoying a cold drink in the waist deep waters of this outstanding sandbar. This trip takes place in a relaxing chill out environment.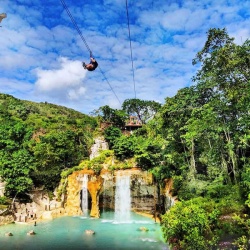 Zip line Eco Splash
Feel the adrenaline and enjoy the sensation of flying through a canopy of trees as you speed through a circuit of twelve zip lines along an amazing cliff, that end with a refreshing water splash!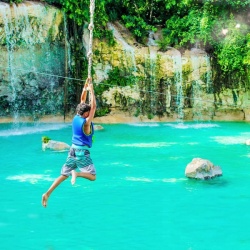 Saltos Azules
Jump from our Mabo rope, soar the skies in our Macuya Swing, zip and thrill in our monkey bar! And ride our water hammocks that take you speeding and splashing in these refreshing waters surrounded by ancient caves and impressive waterfalls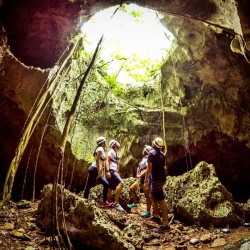 Iguabonita Cave
Meet the wonders that lie beneath the earth! Explore the vast underground network of chambers and tunnels while admiring in awe the extraordinary geological formations this impressive cavern has to offer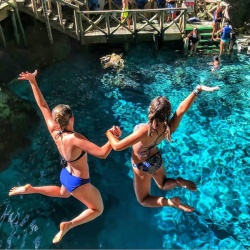 Hoyo Azul Eco Tour
Discover a hidden cenote and enjoy the most impressive turquoise waters nature can offer. This exotic journey will bring you face to face with the Caribbean's amazing eco system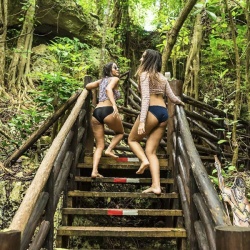 Cultural Route
Slip away from the ordinary and enjoy a journey that's packed with entertainment, filled with nature, and bursting with culture! In this nature walk you will be able to see real life replicas of the homes of the ancient Taino Indians, the Spanish conquistadors, the African slaves and the Dominican peasants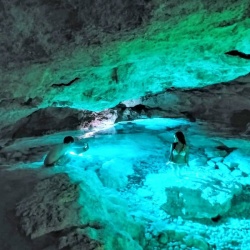 Cave Swim
Dive into this mystical underground spring and live the genuine sensation of swimming in these invigorating waters, previously used by the ancient natives for sacred rituals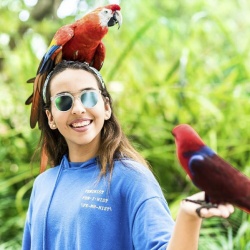 Animals Experiances
El Rancho, Parrots Island, Iguanaland, Serpentarium, Monkey Islands, Mini Horses, Goats and Sheeps, Mare & Foal
PROS:
Enjoy the most famous Scape Park's activities on the same day. Have much fun!
Visit one of the most beautiful areas of Cap Cana and Punta Cana
Cruise along stunning beaches of Cap Cana
Photo packages by professional photographers (are available for additional charge)
CONS:
Any person whose age, physical or mental condition presents a safety risk do not have access to some activities
Pregnant women do not have access to some activities
Cameras, selfie sticks, drones, video equipment and pets are not allowed
Book your Scape Park Full Admission and Sunshine Cruise Package now!
There are no reviews yet. Be the first!
Add Review