Private ATV Tour in Punta Cana – Atlantic Coastline Off-Road Ride with a Stop at La Vacama Beach
Chat with our Consultants!
Embark on an amazing trip through lush tropical jungles along the Atlantic coastline on an exclusive and adrenaline-pumping private ATV Punta Cana adventure tour!
Get ready for an exciting 3.5-hour journey that reveals the untouched beauty of the Dominican Republic's wild nature, leaving you amazed by its stunning views. This private experience is ideal for making unforgettable memories with your best friends or family.
You'll follow a unique 50 km route through dense tropical forests and palm groves that encircle the coastline. Take a break at a secluded beach, immersing yourself in the crystalline waters, and capture incredible photos.
You'll also get to experience the local life by visiting a fisherman's house and receive a unique masterclass on opening coconuts without a machete. And, of course, indulge in the ultimate tropical experience as you sip on a freshly harvested coconut, basking in the serenity of a secluded palm-fringed beach.
Don't miss the chance to enjoy an exclusive adrenaline-packed adventure and get in touch with nature on our private ATV Punta Cana tour!
Private ATV Tour Program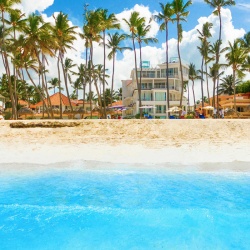 Transportation
We will pick you up from any hotel of Bavaro, Punta Cana with a comfortable minivan and will take you to the base, where you will receive a safety briefing and be provided with all the necessary equipment for a safe and enjoyable journey.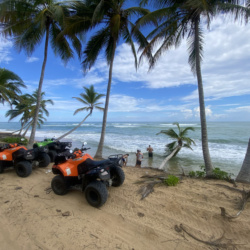 Atlantic Coast ATV Ride
Experience an adrenaline rush during your ride along a unique route, where you can enjoy breathtaking views of the sea, tropical forests, and palm groves. Make stops to capture the most stunning photos along the way.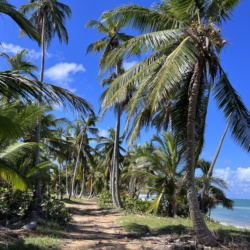 Fisherman's House
Visit a Fisherman's House, where you can experience the unique way of life of the local residents, without the modern comforts we are accustomed to in our daily lives. You will also learn how to open a coconut without using a machete.
Wild Beach La Vacama
Enjoy a wonderful time with your family or friends on a secluded wild beach, sipping fresh coconuts and swimming in the crystal-clear water.
Off-Road ATV Tour Details
Approximate pick-up time: 8:30 AM / 1:30 PM (depends on your location)
Duration: 3-4 hours
Sunday, Monday, Tuesday, Wednesday, Thursday, Friday, Saturday
What to bring: sunscreen, swimwear, towels, and a change of clothes for the transfer are recommended, as the route may be muddy
During the ride, you are allowed to film with a securely mounted GoPro. During stops, you are free to film with any device without restrictions
To operate the vehicle, you must be at least 18 years old. Tourists under the influence of substances may be removed from the route without further explanation
Pregnant women at any stage and individuals within six months after surgery, as well as children under 6 years old, are not permitted
Pick-up and drop-off is included in the price for most hotels and residences in Bavaro-Punta Cana area. Additional charge may be applied for pick-ups from Uvero Alto, Cap Cana, Miches, Veron, Bayahibe and La Romana.
ATV Adventure Pricing
1 quad bike (group of up to 2 people) – $339 USD
2 quad bikes (group of up to 4 people) – $379 USD
3 quad bikes (group of up to 6 people) – $439 USD
4 quad bikes (group of up to 8 people) – $499 USD
5 quad bikes (group of up to 10 people) – $549 USD
To inquire about rates for larger groups, please contact us and we will be pleased to calculate the prices and provide you with the all necessary information.
What is included?
Comfortable hotel pick-up and drop-off service
Unique VIP ATV riding experience
English and Spanish-speaking guide
Safety briefing, helmets
Book your private ATV Adventure in Punta Cana right now and create unforgettable memories during your vacation in the Dominican Republic.
There are no reviews yet. Be the first!
Add Review