Santo Domingo City Tour 2023 – Safe & Private
Chat with our Consultants!
The city of Santo Domingo is the capital of the Dominican Republic and its historical center. The city boasts an impressive historic area – the Colonial City (Ciudad Colonial) with numerous touristic sights. Santo Domingo Private City Tour is an excursion for all history lovers and those who want to feel the authentic Dominican atmosphere.
If you wish to enjoy its memorable excursion taking your time to explore the unique historical area of Santo Domingo and have your private transport, opt for Santo Domingo Private City Tour!
You will explore all remarkable attractions of the Colonial City, enjoy a buffet lunch, and learn a lot about Dominican history and culture. You will have your own driver and car, and as much time as you need to discover Santo Domingo sights!
Santo Domingo City Tour Program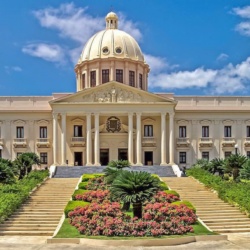 Private Transportation
On the way to the capital, your personal guide will give you information regarding the island and the Dominican culture, history, food, music and much more. The guide will answer any questions you might have while you are driving to Santo Domingo on your comfortable air-conditioned transport. Potable water is available throughout your way.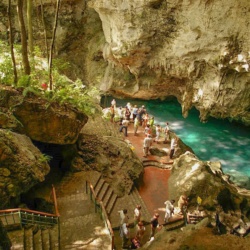 Los Tres Ojos Cave
Enjoy Los Tres Ojos (Three Eyes) - a natural park with three water caves and beautiful rocks. In one of those caves, Jurassic parkepisodes were shot. The site is currently one of the most visited tourist attractions in the country. You will enjoy exploring the caves and, before continuing our trip, you can use bathroom facilities and a cafeteria to buy a drink.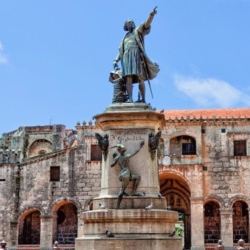 Colonial City
Once in Santo Domingo, explore the most popular city attractions, such as Columbus' Lighthouse, the First Cathedral of America, the Columbus square, National Palace, monument of Columbus, and other touristic sites. You will be impressed by Columbus' Lighthouse - a beautiful monument created in 1990 in memory of the end of 500 years of colonization of America, as well as by the National Palace, which is a copy of the United States Capitol. You will need about 3 hours to explore the Colonial City, so put on comfortable footwear. Take your time and spend as much time as you want to observe all the attractions!
Santo Domingo Excursion Details
Sunday, Mondays, Tuesday, Wednesday, Thursday, Friday, Saturday
Approximate pick-up time: 7 a.m.
Duration – 10 hours (depends on traffic)
What to bring: sunglasses, sun protection cream, photo camera, comfortable shoes, for women: headdress and clothing that covers arms and knees to visit the First Cathedral of America, extra money for shopping, good mood.
Comfortable VIP transportation in an AC bus/vehicle, depending on the number of participants
Professional personal guide speaking your language
Entrance to Los Tres Ojos Park, Visit to the Colonial City, Entrance to the Alcazar of Columbus, Entrance to the Cathedral, Entrance to the Lighthouse of Columbus
Delicious buffet lunch included
Pick-up and drop-off is included in the price for most hotels and residences in Bavaro-Punta Cana area. Additional charge may be applied for pick-ups from Uvero Alto, Cap Cana, Miches, Veron, Bayahibe and La Romana.
PROS:
Unique Historical Experience
Los Tres Ojos (The Three Eyes) – is one of the most famous tourist attractions of the country
The trip leaves great impression and memories
Customized trip – with your personal guide and vehicle just for you. No crowds, no lines.
CONS:
It's a long trip
Traffic jams may make the trip a bit longer than expected
Feel free to reach out and ask about the price for this customized tour! The price of Santo Domingo Private City Tour depends on the number of participants and your individual preferences. We are looking forward to taking you on this unique historical excursion! Book your unique Santo Domingo Private City Tour now!
There are no reviews yet. Be the first!
Add Review