Salto de la Jalda Helicopter Tour from Punta Cana 2023. Transportation included
Chat with our Consultants!
No doubt, this is the most exclusive and incredible helicopter excursion in the Dominican Republic. This is the perfect case when you have the opportunity to feel like a bird that owns the whole world. Be sure that this helicopter ride will give you an unforgettable experience that you will share with everyone when you return home!
Helicopters have great visibility all around, thanks to having lots of glass in the cockpit. So, it will be easy to take photos of this beauty in the air. You will fly over the white sand beaches, quiet local villages, dense rainforest of Punta Cana and admire the magical beauty of Salto La Jalda – the highest waterfall in the Caribbean. It is located in Salto de la Jalda National Park on the edge of Los Haitises Park was created to protect the flora and fauna of this wonderful place.
It is time to break away from lying on the beach under the burning sun and it is the perfect time to see more, thus plunging into the atmosphere of the Dominican Republic. Do not miss the opportunity to give yourself or someone significant for you an incredible dose of emotions that will take your breath away!
Salto de la Jalda Tour Program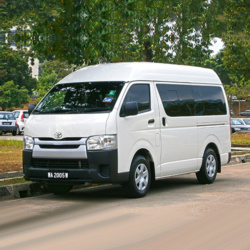 Transportation
So, you do not have to worry about transportation at all when you book an excursion with a trusted company. We provide roundtrip ground comfortable transportation to and from your hotel. All you need is to take a positive charge with you!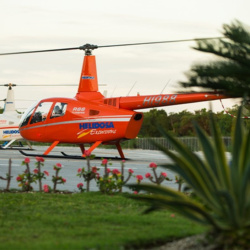 Roundtrip Flight
An amazing 50-minutes round trip flight over beautiful beaches, villages, and rainforests awaits you! Surely staying in such a heavenly place, you want to have time to explore it as much as possible, but it is quite difficult to do it on foot. And from a bird's eye view, it is pretty possible to do this, besides, there are many times more overwhelming emotions than from a simple walk. Such a flight is a perfect way to explore the main surroundings and enjoy the amazing nature of the Dominican Republic.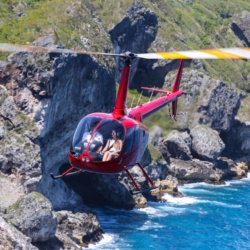 La Jalda Waterfall
So, on the next step, be ready to see one of the most jaw-dropping waterfalls in the Dominican Republic. Overfly the La Jalda Waterfall - the highest waterfall in the Caribbean. Moreover, the drop is about 400 feet (122 meters). No doubt, this place is one of the most wonderful secret spots in the east of the country. Additionally, this place still remains partially unknown and untouched, retaining a mystery and a huge desire to explore it. Enjoy the drop from a huge height with a splashing water sound and admire its beauty and power!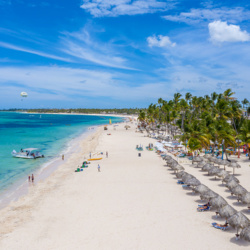 Esmeralda Beach with Lunch
Finally, there will be time to land for a 1-hour lunch at the stunning Esmeralda Beach. Probably after such a busy day, you will be noticeably hungry. Therefore, a delicious lunch will await you on a beautiful beach where there are no crowds of tourists and a large number of hotels on the coastlines. So, we recommend that you just simply enjoy the silence, tranquility, and pure beauty of this place.
Helicopter Excursion Details
Approximate pick-up time: depends on hotel and availability
What to bring: photo camera, sunglasses, cash/credit card (to by photo package), swimming suit, towel, good mood
Children from 2 to 11 years old pay half-price
Children under 2 years old are free of charge
Some weight and weather limitations may apply
Individual and wedding packages are available
We reserve the right to include more than 2 passengers in trip
Additional flight time and/or time on the beach is available at an extra charge
PLACES ARE LIMITED – KINDLY ASK YOU TO BOOK YOUR TRIP AT LEAST 2-3 DAYS IN ADVANCE!
What's included
Round trip transfer from your hotel
50-minutes helicopter ride
Flight over the Salto de la Jalda waterfall
Esmeralda Beach
Lunch
Pick-up and drop-off is included in the price for most hotels and residences in Bavaro-Punta Cana area. Additional charge may be applied for pick-ups from Uvero Alto, Cap Cana, Miches, Veron, Bayahibe and La Romana.
There are no reviews yet. Be the first!
Add Review