Helicopter Tour in Punta Cana – Amazing Sky Ride 2023. Transportation included
Chat with our Consultants!
Well, if you are looking for something unusual to do in Punta Cana, then be sure that you are already on the right page! You can indulge the impulse to rise above Punta Cana, by taking a helicopter ride. While in flight, you can feel like a free bird, and the whole world opens up to you. So, once you are up in the air, just enjoy snapping breathtaking views.
This is the top-rated and best-reviewed helicopter tour that will definitely take your breath away and make your vacation unforgettable. That is why it is a perfect gift for your special occasion because everybody deserves to get this experience in their life. Whether you are planning it for a proposal, an anniversary, birthday, a special date night, or just enjoy the beauty of the Dominican Republic from the air, plan now for the best gift!
Natural sights will take your breath away when seen from a helicopter. Be sure that a helicopter ride with our experienced Dominican Republic company will provide you with a comfortable and safe trip. This amazing ride will be the most thrilling part of your vacation and the story you cannot stop sharing when you are home. Without a doubt, it will be one of the most memorable events of your life!
Helicopter Tour Options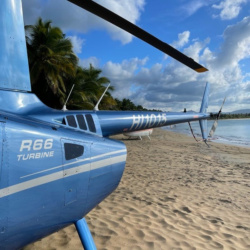 10-Minute Helicopter Flight
This short 10-minute flight will be the perfect opportunity to explore the beauty of the amazing Bavaro, Punta Cana by air! Fly over the fabulous coastline, turquoise ocean waters, and dense rainforests. Rest assured that this short but momentous journey will leave a big mark in your memory as one of the best experiences you have ever had.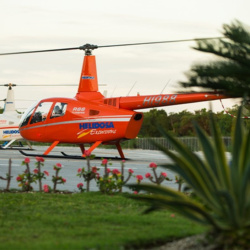 15-Minute Helicopter Flight
Treat yourself to an amazing flight over the unspoiled Arena Gorda beach in Bavaro with its white sand, palm trees, and clean waters. No doubt, you will be amazed by the amazing view of a wrecked vessel like never before.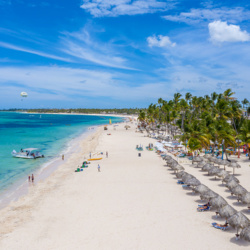 20-Minute Helicopter Flight
This option allows you to reach the fabulous Macao Beach where the most luxurious Bavaro resorts are located. This beach is also the best place for doing water sports in Punta Cana. So, you will see surfers skating, catching the best wave under the rays of the Caribbean sun. During this flight, you will see miles of the most stunning white-sand beaches, tropical palms, and turquoise waters of Punta Cana.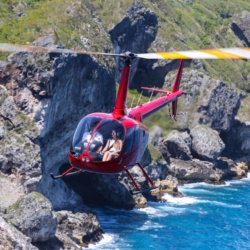 30-Minute Helicopter Flight
Take an unforgettable flight along the entire Bavaro area, from ecological Cabeza de Toro to the northeastern shores of picturesque Uvero Alto. During this trip, you will be able to enjoy the flight altitude to the fullest. When else will there be such an amazing opportunity to look at this paradise land with your own eyes from such a perspective? So, get ready for the most unforgettable experience!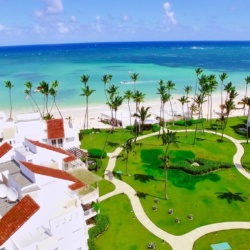 40-Minute Helicopter Flight
Probably this most spectacular flight where you can see it all. Especially from the clean waters of Punta Cana to the breathtaking views of Uvero Alto. This 40-minute ride will give you an incredible experience, where you will travel to another reality, feeling like a bird of free flight. With this option, you will enjoy the contemplation of the nature of Punta Cana. This is the best way to get to know the beautiful Dominican Republic. Do not miss this opportunity!
Sky Excursion Details
Approximate pick-up time: depends on hotel and availability
What to bring: photo camera, sunglasses, cash/credit card (to by photo package), good mood
Children from 2 to 11 years old pay half-price
Children under 2 years old are free of charge
Some weight and weather limitations may apply
Pregnant women are allowed to participate in the tour, but the company does not recommend it and does not take any responsibility for the health of the mother and the child.
Individual and wedding packages are available
We reserve the right to include more than 2 passengers in our trip
Ground transportation from and to your hotel
Helicopter ride
What's included
Pick-up and drop-off is included in the price for most hotels and residences in Bavaro, Punta Cana and Uvero Alto area. Additional charge may be applied for pick-ups from Cap Cana, Miches, Veron, Bayahibe and La Romana.
There are no reviews yet. Be the first!
Add Review