Coco Bongo Show & Disco Punta Cana – Night Club Party 2023 (No Dress Code!)
Chat with our Consultants!
The world-famous night club Coco Bongo opens its doors for you in Bavaro, Punta Cana. Amazing as always, it features four entrance options to choose from: regular package, gold member, royal service, and front row. The main difference between them is in the selection of beverages offered and access/no access to VIP areas. The show is amazing no matter which entrance option you choose.
To book and guarantee your reservation, we issue a reservation confirmation upon receiving your payment. Specify the desired date and number of people – and we will activate a discount for you depending on the day of the week you choose, if the discount is available for the package you have chosen.
New Year OffersRegular Tickets
Coco Bongo Party Program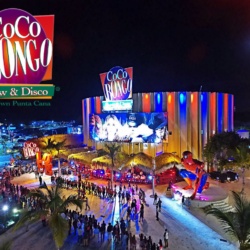 Transportation
Any entrance option includes comfortable transportation from and to your hotel or pick-up point in the touristic area of Punta Cana, Cap Cana and Bavaro. On Monday, Wednesday and Friday, there is transportation from Bayahibe with USD15/person charge for transportation. From Boca Chica, Juan Dolio and Casa de Campo we provide transportation on Wednesday for USD15/person.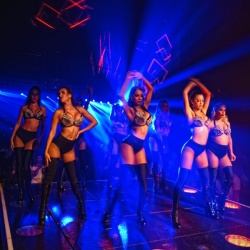 Amazing shows
Enjoy an amazing dance and show program. Coco Bongo has a large number of live shows, that makes this place unique, where acrobats and professional artists fully engage in the performances. The show lasts three or four hours. It is combined with the best modern music and videos between performances. Coco Bongo gives its visitors the best experience full of fun.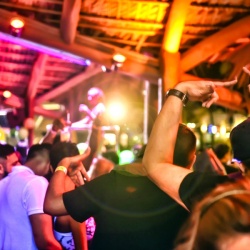 Drinks
You can enjoy not only a great concert with dancers and gymnasts, but also good cocktails too. Mind that different drinks are available for different entrance options.
Coco Bongo Punta Cana
Regular Tickets
Package #1. Coco Bongo Regular
Price: USD 85 per person
Entrance
Show
Domestic Open Bar
Round Trip Transportation
Package #2. Coco Bongo Gold Member
Price: USD 165 per person
Entrance
Show
Wider selection of beverages
Reserved seats
Round Trip Transportation
You also have the option to upgrade your package to Gold Member Plus, which gives you the benefit of seats in an exclusive area closer to the stage. Price: USD 175 per person
Package #3. Coco Bongo Front Row
Price: USD 185 per person
Entrance
Show
Premium Drinks
Seats in Preferential Area
Limited Capacity
Personalized service
Round Trip Transportation
Coco Bongo Party Details
Wednesday-Sunday
Pick-up time: approx. 6 PM
Duration: about 5 hours
What to bring: good mood
Comfortable Transportation – modern shuttles (two way included)
Show and dance program
Open Bar
Pick-up and drop-off is included in the price for most hotels and residences in Bavaro-Punta Cana area. Additional charge may be applied for pick-ups from Uvero Alto, Cap Cana, Miches, Veron, Bayahibe and La Romana.
Key benefits
It is worth it
The best shows
The biggest club
Nice music
Large selection of beverages
Preferential areas
Pay attention:
To stay in a private VIP area, you have to pay for VIP access.
Coco Bongo is definitely something that you have to experience if you enjoy nightclubs, entertaining shows and an open bar. If you enjoy those three things, then you surely will not be disappointed. Book your unique party experience now!
Reviews: 2
Exceptional! 5/5
Add Review