VIP Surfing in Punta Cana – «Surfing in Paradise», Macao Beach
Chat with our Consultants!
Welcome to Macao Beach – one of the most amazing places in Dominican Republic and probably in the whole world! We are inviting you to join our memorable one day VIP private excursion «Surfing in Paradise» in Punta Cana.
No matter what kind of fitness level you are – we will help you to catch the best waves of your life and make it completely unforgettable – you will take away not only emotions but your personal Full HD cool footage surfing video and pictures!
100% safe with full personal coverage and our help during your surfing session – it will be easy for everyone including kids and you will have a lot of fun!
Just for 139 usd per person you will get:
Round trip transportation service from your resort to our school at Macao Beach and back
2 hours private surfing lesson with full personal 1 on 1 assistant in the water with fruits and coconuts in the half break
Unlimited access to our chill out zone with sun lounges.
1 big and fresh hand made "pina colada" in whole pineapple to celebrate your surfing day
Unlimited sparkling water and high speed wi-fi
Pick-up and drop-off is included in the price for most hotels and residences in Bavaro-Punta Cana area. Additional charge may be applied for pick-ups from Uvero Alto, Cap Cana, Miches, Veron, Bayahibe and La Romana.
Please note that the tour price for guests from Cabeza de Toro is $159.
Optional (you can order in Surf School):
Full 2 hours video and photo shooting with really cool footage (3-4 minutes of memorable video in full HD quality) including drone shots – you will receive it immediately after session to your iPhone or via cloud service
Fresh fish lunch grilled with our celebrity "surfing style"
During more than 6 years, we have helped more than 10 000 people catch their coolest waves. Are you ready to be the next one?
«Surfing in Paradise» Program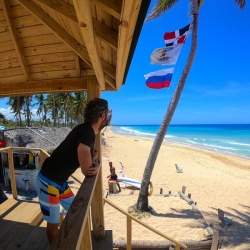 Departure
Departure from hotel is at 8-8:30 a.m. depending on your hotel location. Transportation is provided by an official transport company, on a comfortable air-conditioned minivan.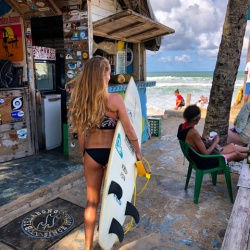 Upon arrival
Upon arrival to the school (after 20-50 minutes on the way), you will get a brief instruction, enjoy a coffee break, put on a special surfing uniform – spandex sport shirts (provided to each guest for temporary usage). Those who want to buy a new spandex sport shirt are welcome to our shop where you can find this unique clothing of any size (for kids, men and women).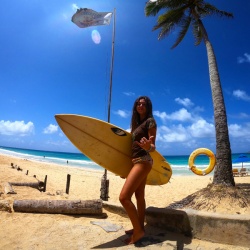 Theory
9:15am - А short personal photo and video shoot on the beach, an introductory theoretical and practical course on the shore (15-25 minutes). We learn and practice basic skills: entrance to the water, how to lie on a surfboard correctly, how to stand up on a surfboard, how to catch the wave and glide on it to the shore.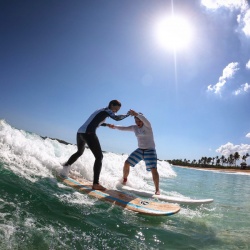 Practice
9:30 - Training in water. Each guest has their personal instructor in water. Kids above 12 apart from a personal instructor also have a supervisor in water. The first surfing session in water lasts for 45 minutes. While you are surfboarding, video and photo shoots are being made continuously right in the water with several GoPro7 Black cameras.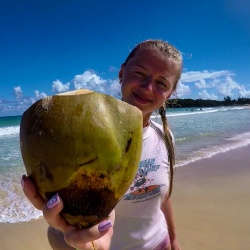 Short break
10:15am - Return to the shore for a short break (10-15 minutes). A snack with fruit and coconut. Photo and video shooting on the shore (with surfboards and coconuts, as well as several model shoots on the sand).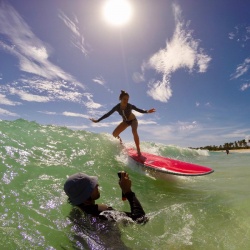 Return to the ocean
10:30am - Return to the ocean. Next training part in water – 45 minutes. We continue conquering the waves. The achievement is greater, the photo shoots are cooler.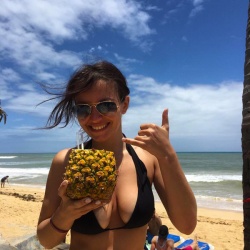 Relaxing
11:15am - Return to the school, shower, change of clothes, potable water. Relaxing after surfing, in our own surf chill-out area with high-speed wifi, beach chairs, parasols, pleasant music and tropical bar. You can treat yourself to original piña colada in a pineapple (with/without alcohol), swim, bask in the sun, and take surfboards for your own photo shoots on the beach. While you are chilling on the beach, we are editing an individual video for each guest (for one person, a couple, or a family), as well as choosing good pictures.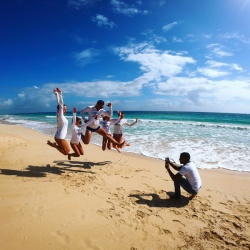 Video & photo
12:15am - Checking your personal video and photo shooting. Discussion of results. If you like it - you can buy your personal professional photo & video package - an edited dynamic and very impressive video with music & all the photos. The duration of the video and the number of photos directly depend on the number of guests in the video – from 3 to 5 minutes and from 100 to 300 photos.
Optional: You can make an upgrade after surfing session and stay whole day in our chillout with fresh fish grilled lunch and late back transportation to Bavaro at 16:30pm
There are no reviews yet. Be the first!
Add Review