Why High Season 2023 (December-January) is the best time to visit the Dominican Republic?
What can help to relieve the burden of such a tough and challenging year? COVID-19 has shaken the whole world, but the Christmas holidays are coming. It is the best time to start believing in miracles again. What can you wish more for than pleasantly warm sunshine, brilliant blue skies, and crystal-clear water on the white-sand beach? Sounds like a paradise, isn't it? But all of it you can get this high season in the DR – the most visited tourist destination in the Caribbean.
Why is it the best time to visit the Dominican Republic in the high season 2023? No matter what you are looking for, you will find it all in the Dominican Republic. The Dominican Republic has something to offer to every kind of traveler. Whether you want to spend your vacation on the beach by the luxury villa or venture off to explore the wild nature.
Have you been dreaming about such a vacation? 2023 is a perfect time to fulfill your dream and let yourself rest after a brutal year and not worry about anything for a while. Read on to find out why is it the best time to visit the DR this winter.
1. The weather is the main attraction during
this high season in the DR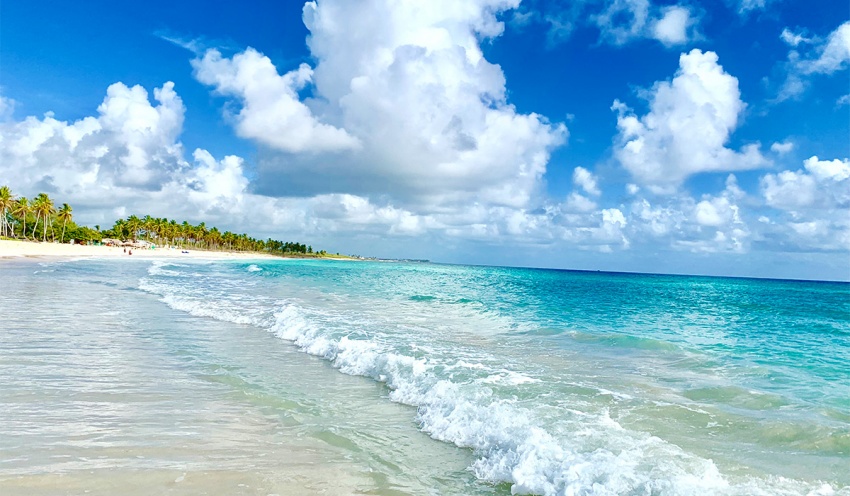 Although the island offers a year-round average temperature of 25°C, there is some slight climate variation which makes certain times are better to visit than others. For instance, the hurricane season lasts from June to November. And May to mid-November is a rainy season.
The high season in the DR is between December and April. Those months are considered the best time to visit this country. The weather is just amazing, not too hot nor not too cold. Averaging around 25-30°C together with low humidity.
Such comfortable weather during the high season makes the Dominican Republic a perfect place to visit for small children and elderly people who find such temperature and humidity pleasant. When spring comes, the majority of tourists go to their native land, and it's possible to enjoy a more peaceful island, although there are still plenty of events for travelers to enjoy. Moreover, in early spring such destinations as Punta Cana are very popular as their beaches are located in the southeast of the island.
So there is no wrong or right time to come to the Dominican Republic, just come whenever you want and we, Everything Punta Cana LLC, will do everything so you enjoy your vacation to the fullest! We have all kinds of apartments and villas for your relaxation and unforgettable time during your visit to the Dominican Republic.
2. Safety. The DR is one of the safest
travel destinations this year
Despite all these attractive benefits, many tourists are not sure whether it's safe to travel abroad and canceled their vacations due to the spread of COVID-19. But is it safe to travel to the Dominican Republic this winter? Also, the 2023 high season is the best time to visit the DR because it is one of the safest travel destinations! Let's see why.
Although the whole world was experiencing a drastic increase of COVID-19 cases in the summer of 2020, the government of the Dominican Republic did it all to prevent the spread of the virus and took the situation under control.
All the preventive measures and restrictions are under strict control: hygiene and health safety protocols are practiced in all public places; social distancing rules are in force, temperature checks of guests at check-in, etc. That is why tourists feel safe during their stay and come back home healthy and well-rested.
3. Cheap apartments and great villa deals
for your winter vacation 2023
Another reason why 2023 high season is an excellent time to travel to this beautiful country is that now might be the best time to get a great discount on your rent. We offer crazy weekly and monthly discounts for up to 40% for long term rentals. Your stay in the DR during the high season has never been so cheap. If you could not afford the Christmas holidays with your whole family in the tropical paradise before, now it's high time to make your dream come true.
Everything Punta Cana LLC can provide you a full package of services, we can organize whatever you and your budget desire! Luxury apartments, best excursions, personal chef, maid, and much more. We will be glad to welcome you to the Dominican Republic and make your vacation perfect.
4. Dominican beaches are among the most
beautiful in the Caribbean
Beaches in the DR are definitely of the most mesmerizing destinations in the world with their perfectly warm blue waves, sandy shores, and high palm trees. These beaches are indeed everything you can imagine when you think of tropical paradise. Punta Cana is the best resort in the Dominican Republic today. It is a truly unique place with its vast white-sand beaches, crystal blue water, and palm trees growing absolutely everywhere. Even the name of the locality of Punta Cana is literally translated as follows: "the meeting place of all palm trees." Moreover, it is where the Atlantic Ocean meets with the Caribbean Sea.
This corner of the country attracts a large number of divers, as it is located close to the coral reef. And it makes the waters safer, calm, and warm. Also one of the most favorite entertainment places for guests of the resort is Manati Park with its diverse flora. You can meet there iguanas and sea lions, snaked and crocodiles, talking parrots, horses, sharks, and dolphins. It is an unforgettable experience for both you and your children! If you want to feel like a hero of some adventurous movie, you may consider going for a jeep safari. It can take you for a day from luxury hotel civilization to tropical jungles.
Beaches of Bávaro and Playa Los Corales definitely worth a visit to the DR.
Bávaro is the most luxurious and prestigious resort among all the beaches of the Dominican Republic. This beach is known for its "perfect picture" landscape. A coral reef up to one kilometer surrounds Bávaro beaches, so swimming here is completely safe, which makes this place perfect for families with children. Moreover, your children will be very happy to visit the Manati Park since you have an opportunity to swim with dolphins there. This natural pearl of wildlife and tropical plants clearly worth a visit to the Dominican Republic!
Playa Los Corales is the most popular vacation get-away area after Bavaro and Punta Cana. The beach here is a real all-rounder and has something to offer for every kind of guest. It is the right fit for everyone who wants to enjoy discreet luxury in freedom without the usual rules the large all-inclusive hotels. Most beaches here are open and easily accessible. The beach life is perfect for everyone. Whether you want to sip on your cocktail on the cozy sunbed or join a volleyball game and stay active even on your vacation. Playa Los Corales invites you to relax and we can help you to rent a perfect apartments or villa so you can enjoy an outstanding sea landscape!
5. Exotic fruits is one more reason
to visit the DR this winter
One more reason to visit the Dominican Republic in 2023 is to try all these exotic, tropical, and sweet fruits! Some of the fruits are well known to us all: watermelons, pineapples, melons, bananas, mangos, or avocados. But they will still surprise you with their sweetness.
The Dominican Republic is a heavenly place for fruit lovers. No matter what time of the year you come here, you can always enjoy almost any fruit. Besides mentioned mango and pineapple, but also green coconuts, passion fruit, papaya, guava, star apple, carambola, nispero, or loquat. All these fruits are extremely sweet and soft growing under the Dominican Sun. You have a unique opportunity to visit the Dominican Republic and enjoy all those summer fruitage even in the wintertime.
And you can experience all of it this high season in the Dominican Republic, so why hesitate? We can offer you the best vacation! For your consideration private villas, best apartments, personal chef, nanny, and unique excursions. Just reach out and we will do our best to organize a vacation of your dreams!
Updated on: . Author: Ekaterina Kostarieva