Swim with Dolphins in Punta Cana! Dolphin Explorer Cruiser
Chat with our Consultants!
Would you like to combine a relaxing snorkeling experience with an extreme adventure with rays and sharks, and top it off with a party on board a catamaran?
All these activities and even more are included in Dolphin Explorer Cruiser Experience! Start your tropical experience from Cabeza de Toro natural reserve, where you can swim and snorkel with our sharks and rays. Loaded with adrenaline, you will continue your interaction with marine creatures, and this time we will introduce you to adorable fur seals.
After that, you will have fun and party on board our catamaran that will take you to Cabeza de Toro sanctuary for reef snorkeling. Finally, you will be taken to the natural pool with transparent water, where you will relax for an hour. On your way back home, continue your party on board the catamaran and treat yourself to drinks and snacks.
Dolphins Excursion Program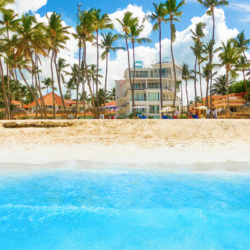 Departure from the pick-up point
Our tour includes pick-up/drop-off from any hotel or pick-up point of Bavaro/Punta Cana and transportation in modern buses with expert drivers.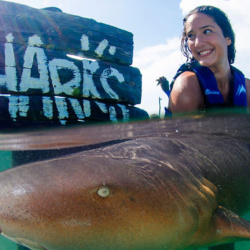 Sharks and Rays
Start your adventure with an extreme interaction with sharks and rays in Cabeza de Toro natural reserve. Snorkel and swim with these marine animals.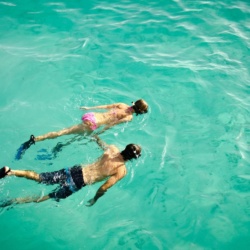 Reef Snorkeling
Dive into the transparent waters of Cabeza de Toro sanctuary and observe its submarine world during reef snorkeling.
Natural Pool
Chill in Punta de los Nidos natural pool for an hour before going back home and partying on the catamaran.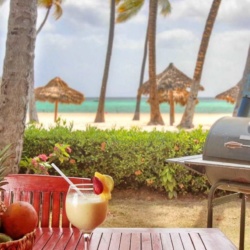 Drinks and Snacks
During this excursion, you can treat yourself to snacks and drinks on board the catamaran.
Dolphins Excursion Details
Sunday, Monday, Tuesday, Wednesday, Thursday, Friday, Saturday
Approximate pick-up time from your hotel or pick-up point: request this info specifying your location (hotel name)
Duration: 6 hours
What to bring: swimming suit, sunscreen, sun glasses, towels, good mood.
Comfortable Transportation included
Unique Birds and Sea Lions Show
Interaction with a a fur seal, shark and a ray
Reef snorkeling
Natural pool
Catamaran party and snacks & drinks
PROS:
Enjoy the unique show
Swim with a ray, shark, seal
Snorkel
Free drinks and snacks on board the catamaran
CONS:
There may be many people on this excursion
Book your Cruiser Experience now!
Reviews: 1
Exceptional! 5/5
Add Review