Swim with Dolphins in the Dominican Republic
Chat with our Consultants!
Have you ever dreamt of swimming with dolphins? These fantastic sea creatures have dreamt of meeting you too – at Dolphin Explorer! Just imagine that after an impressive Birds and Sea Lions Show you will be able to enjoy adventrous interaction with a dolphin!
Discover how the dolphin can teach you to dance or take you for a ride as you grasp the dorsal fin and the pectoral flippers! If you are tired of just lying on the beach and sipping unlimited all-inclusive cocktails, join Dolphin Explorer and explore a real 50 minutes adventure that the dolphin can share with you!
Dolphins Excursion Program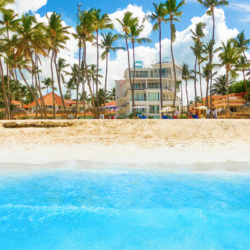 Departure from the pick-up point
Our tour includes pick-up/drop-off from any hotel or pick-up point of Bavaro/Punta Cana and transportation in modern buses with expert drivers.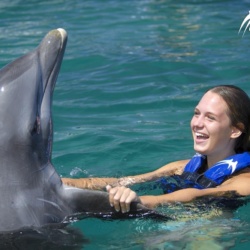 Swimming with the Dolphin
50 minutes adventurous interaction with the dolphin. Please, mind that you should have at least intermediate swimming skills to participate in this adventure.
Dolphins Excursion Details
Sunday, Monday, Tuesday, Wednesday, Thursday, Friday, Saturday
Approximate pick-up time from your hotel or pick-up point: 7 a.m./9 a.m./ 10 a.m./12 p.m.
Duration: 2.5 hours (show + interaction during 50 minutes)
What to bring: Swimming suit, sunscreen, sun glasses, towels, good mood.
Comfortable Transportation
Unique Birds and Sea Lions Show
50 minutes of adventurous swimming with the dolphin
RULES:
Children taller than 1 meter can participate if they have at least intermediate swimming skills
All participants should have at least intermediate swimming skills
Pregnant women are not allowed to participate
The maximum number of participants per group is 12
PROS:
Enjoy the unique show
Interact with the dolphin
CONS:
There may be many people on this excursion
Book your explorer swimming with dolphins now!
There are no reviews yet. Be the first!
Add Review