Punta Cana Speed Boat and Snorkeling Tour – Self-drive 2-hour excursion up to 4 people
Chat with our Consultants!
Take an incredible 2-hour trip through the clear waters of the Atlantic Ocean, independently driving your own private speedboat!
This will be an unforgettable experience where you will drive a speedboat along the picturesque coastline of Bavaro and Bibijagua beaches, feeling the rush of adrenaline and unforgettable emotions with up to 4 of your closest friends or family members.
After a 40-minute ride on the speedboat, you will stop for swimming in a natural pool with clear turquoise water, where you may even see sea stars!
Afterward, you will head to the coral reef, where you will snorkel and admire the beauty of the underwater world. It will be an unforgettable experience.
During your trip, water and soda will be included. And our experienced team will be nearby on another boat, guiding you along the route and providing assistance in case of any questions or needs. All for your comfort and safety!
Don't miss the opportunity to feel like the captain of your own watercraft and cross the waters of the Atlantic Ocean with your closest companions, to admire the beauty of the Punta Cana coastline and the underwater world.
Punta Cana Speed Boat Adventure Program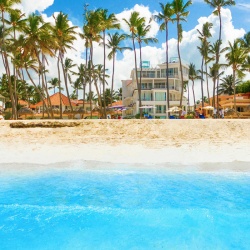 Transportation
We will pick you up from any hotel of Bavaro, Punta Cana with a comfortable transport and experienced driver and will take you to the place where your unforgettable adventure will start. We also offer transfers from other locations for an additional fee.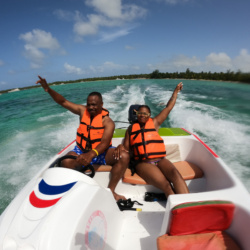 Speed Boat Ride
In a small group with other boats and a guide leading the route, you will start your journey at the helm of a private speedboat along the beautiful beaches of Bavaro and Bibijagua. Enjoy an adrenaline rush and extreme emotions during the ride!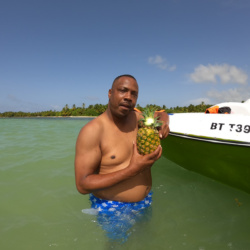 Natural Pool Stop
Then you will make a stop in a picturesque lagoon for a swim in crystal-clear water, and may even get to see some starfish. It will be an unforgettable experience. Capture the best memories with some great photos and enjoy the sun and sea to the fullest!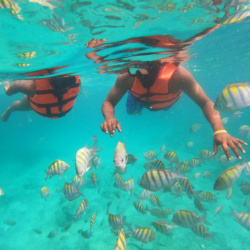 Snorkelling Experience
Explore the underwater world during a snorkelling stop at the coral reef. What could be better? By the way, water and soda will be provided for your complete enjoyment during the trip.
Self-Drive Boat Tour Details
Approximate pick-up time: 8:30 AM / 10:30 AM / 2:00 PM / 3:30 PM (depends on your location)
Duration: 2 hours
Sunday, Monday, Tuesday, Wednesday, Thursday, Friday, Saturday
Here are some available options to choose from: Double Speedboat – for up to 2 people. You can either book one boat for 2 people for $85, or two boats for $170 / Family Speedboat – for up to 4 people at the price of $115
What to bring: swimming suit, towel, camera (it is better to have a waterproof case), sunscreen, hat, change of clothes, spending money, good mood
During the trip, a professional photographer will be with you to capture the most beautiful moments of your journey. The photos can be purchased at the end of the tour if desired, for an additional fee.
What is included?
Comfortable hotel pick-up and drop-off service
Self-drive boat experience / Speedboat sailing experience
Natural Pool
Snorkelling equipment
Water, soda
What isn't included?
Alcohol drinks (beer available for an extra charge)
Professional photos
There are no reviews yet. Be the first!
Add Review