Saona Island and Altos de Chavon 2-in-1 Private Excursion (from Punta Cana)
Chat with our Consultants!
Close your eyes and imagine yourself resting on the snow-white beach, with the cristal turquoise sea water touching your toes and the coconut palm tree casting a shade on your face… Now open your eyes: It's all real! Welcome to Saona Island – an authentic Caribbean paradise and the largest island in the Dominican Republic!
During this excursion, you will not only appreciate its beauty but also explore the remarkable Altos de Chavon village in the Dominican Republic. You will walk through its historical streets, feeling the atmosphere of a 16th-century Mediterranean village perched above the Chavon River and frequently used as a film set.
This unique excursion combines relaxing and historical local experiences, as well as allows you to try typical Dominican lunch and enjoy drinks from an open bar. Round-trip transportation from Punta Cana hotels or meeting points  is included.
Don't miss this opportunity! Go Altos de Chavon and Saona Island and spend an unforgettable day in the Dominican Republic!
Saona & Altos de Chavon Excursion Program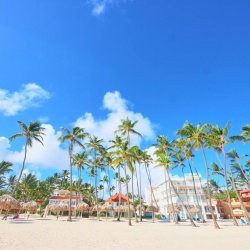 Comfortable Transportation
We provide comfortable transportation from any hotel and residence in Bavaro, Punta Cana, Uvero Alto, and Cap Cana areas, with an experienced driver. Pick-up time is typically scheduled around 7:00 a.m., depending on the location.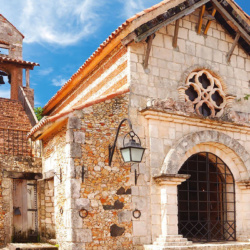 Altos de Chavon Village
Your first stop is Altos de Chavon village, a stunning 16th-century replica perched high above the Chavon River. This architectural wonder, created by Italian designer Roberto Coppa and Dominican artisans, offers stone pathways, decorative ironwork, and enchanting buildings. You'll spend about 45 minutes here with a multilingual guide. Please inform us of your preferred language in advance.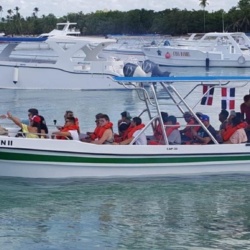 Speedboat Adventure
Feel the refreshing breeze and savor the breathtaking views of the Caribbean Sea as you embark on an exhilarating journey aboard a comfortable speedboat to picturesque Saona Island.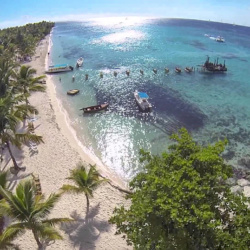 Saona Island
Enjoy the crystal turquoise waters, unwind on the pristine white beaches, sip on coconut water, shop for local souvenirs, and relish the star-like experience of Saona Island! You'll have approximately 3-4 hours to bask in this Caribbean paradise, a favorite choice for filmmakers and advertisers seeking the quintessential desert island backdrop.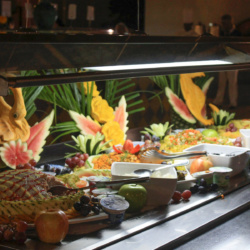 Traditional Dominican Lunch
In addition to enjoying your time in this picturesque place, you'll also be treated to a delicious Dominican BBQ buffet lunch, which is included in the tour price. Enjoy the flavors of Dominican cuisine.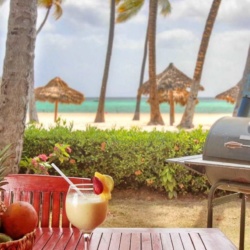 Free Drinks
But that's not all! You will also have the opportunity to enjoy a variety of local beverages, both alcoholic and non-alcoholic, free of charge at our open bar. You'll definitely have everything you need for a perfect getaway.
Saona & Altos de Chavon Excursion Details
Sunday, Monday, Tuesday, Wednesday, Thursday, Friday, Saturday
Approximate pickup time from your hotel or pick-up point: 7.00 AM (depends on your location)
Duration: 9-10 hours
Maximum number of participants: 6 (for groups larger than 6, please reach out to us for pricing)
What to bring: swimming suit, sun protection cream, sunglasses, photo camera, hat, cash for souvenirs and tips
Comfortable transportation, alcoholic and non-alcoholic national drinks are included
Unique swimming and sightseeing experience. Local experience
Pick-up and drop-off is included in the price for most hotels and residences in Bavaro, Punta Cana, Uvero Alto, and Cap Cana areas. Additional charge applied for pick-ups from Bayahibe and La Romana.
PROS:
Opportunity to explore the recreated 16th-century Mediterranean village, Altos de Chavon
Unique swimming and local sightseeing experience
Opportunity to visit one of the most famous Caribbean islands
Free Traditional Dominican Lunch and national drinks
IMPORTANT NOTICE: Visit to Altos de Chavon is available only on certain days. Please, contact us in advance to confirm on which days it is organized!
CONS:
It may be very hot and sunny aboard the boat and on the island, so take a hat and sun protection cream with you.
If you suffer from seasickness, make sure to take necessary medication.
Book your excursion to Saona Island and Altos de Chavon now!
There are no reviews yet. Be the first!
Add Review