Montaña Redonda – Hidden Paradise. The Dominican Republic
Chat with our Consultants!
The Dominican Republic obviously boasts marvelous beaches and high-quality all-inclusive resorts. However, only a lazy one will stay uninterested in other charming places of this tropical country.
Hidden Paradise is an excursion for those who want to bring home unforgettable fantastic memories of the Caribbean paradise. It is for those who are not satisfied with photos exclusively on the beach, which the majority of tourists have. The excursion takes you higher… As high as the Round Mountain (La Montaña Redonda) – a natural gem of the eastern coast.
This place is definitely worth visiting, just like the Natural Pool with its transparent waters which cannot be seen on crowded hotel beaches. These attractions are hidden, but we know the route, and we are ready to take you on the most beautiful Caribbean excursion to the Dominican paradise…
Montaña Redonda Excursion Program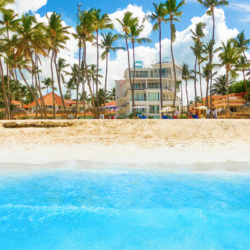 Departure from the pick-up point
Our tour includes pick-up/drop-off from any hotel or pick-up point of Bavaro/Punta Cana and transportation in modern buses with expert drivers.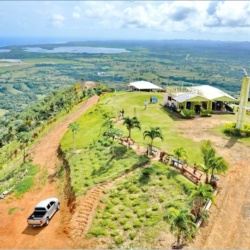 La Montaña Redonda
The famous Redonda Mountain (La Montaña Redonda=literally Round Mountain) is our first destination. We will ascend the mountain on board our safari-style trucks, which will be an unforgettable adventure. On top of the mountain you will take pictures and enjoy a panoramic breathtaking view over the wonderful landscape. From one place you will see at the same time the Samana Bay, Redonda Lagoon, Limon Lagoon, Esmeralda Beach, Limon Beach, and the entire oriental mountain chain, which is something unforgettable!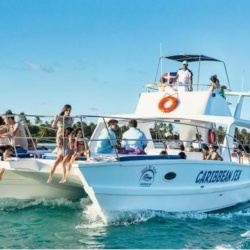 Catamaran
After descending from the mountain on the truck, we will get on our comfortable AC buses again and go to the town of Miches, from where your catamaran experience starts. The catamaran with the best animation will take you to Punta de la Finca beach so that you enjoy its transparent water and idyllic atmosphere. On the beach, we will open for you an all-inclusive bar with national drinks.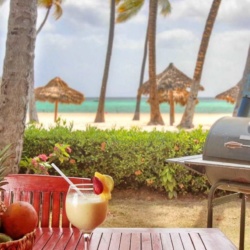 Free Drinks and Snacks
You will enjoy free national drinks on the beach and snacks on board the catamaran.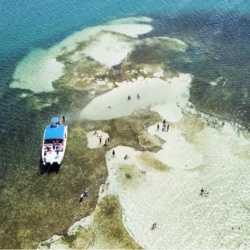 Media Luna Natural Pool
While you are enjoying your snacks, the catamaran will take you to Media Luna Natural Pool. Once at the Natural Pool, our personnel will give you safety instructions and snorkel equipment for you to obseve different fish, starfish, reefs and other amazing marine species in their natural habitat.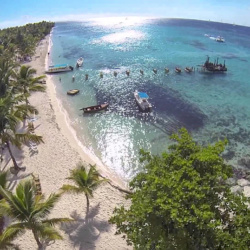 Buffet Lunch and National Drinks
Revitalize your body after active snorkeling and enjoy a buffet lunch and national drinks.
Montaña Redonda Excursion Details
Sunday, Monday, Thursday
Approximate pick-up time from your hotel or pick-up point: 8 a.m.
Duration: 7 hours
What to bring: Swimming suit, sunscreen, sun glasses, good mood.
Comfortable Transportation, modern shuttles with AC – two way included
Unique eco and local experience
Lunch, snacks, national drinks are included
Snorkeling equipment is included
Special Rules: the participants should be at least 5 years old
PROS:
Enjoy the unique trip to two amazing attractions on one day
See the most beautiful panoramic view
Snorkel in the Natural Pool with transparent water
Lunch, snacks, and drinks included
CONS:
Any person whose age, physical or mental condition presents a safety risk will not be allowed to participate
Reviews: 1
Exceptional! 5/5
Add Review