Legendary Whales of Samana
Samana is a legendary peninsula famous for its bay which once a year becomes home for humpback whales who come here for breeding. This wonder of nature is an absolute must for everyone who visits the Dominican Republic during the high season. Kids and adults, men and women, everyone is empressed with fantastic mating games which can be observed during Punta Cana whale watching excursion in Samana bay in February and March.
But even if you visit the country in any other month of the year, Samana is worth seeing. You will be impressed with picturesque Bacardi island and El Limon waterfall. You can chill on the island for some more time, enjoying its relaxing atmosphere, or experience a lifetime adventure going to El Limon waterfall through a tropical forest. Besides, you will go to the waterfall on horse.
So many things in only one excursion for the most reasonable price! The Traditional Dominican Lunch, soft and alcoholic drinks included. Enjoy Punta Cana whale watching tour!
What to bring: Comfortable clothing, swimming suit, hat, photo camera, closed shoes and long hair tied up if you want to see the waterfall. Included: Transportation from and to any Punta Cana/Bavaro Hotel in air-conditioned buses.
Excursion Program
Departure from the pickup point
We provide pick-up/drop-off from any hotel or area of Bavaro/Punta Cana and transportation in modern buses with expert drivers, accompanied by a professional multilingual guide.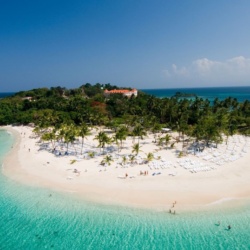 Bacardi Island
Explore one of the most famous Caribbean islands and discover its biodiversity, enjoy the beach and the sea.
El Limon Waterfall
For the most adventurous, we have prepared a visit to El Limon waterfall on horses through the tropical forest. Take a photo camera with you to take some pictures of this impressive waterfall.
Free Drinks
Have a tasty Cuba Libre cocktail or refreshing water free of charge!
Schedule
Tuesday, Thursday, Saturday
Approximate pick up time from your hotel or pick-up point: 6.30-7.00 a.m.
Duration: 10 hours.
What to bring: Closed shoes and comfortable clothing (especially for those who want to visit El Limon waterfall), swimming suit, photo camera, sun protection cream, good mood.
What's included? 
+ Comfortable Transportation, modern shuttles with AC – two way.
+ Bacardi island and El Limon waterfall (a visit to El Limon is included, but not compulsory)
PROS:
Explore the diversity of famous Bacardi island and Samana bay.
Go on an adventurous tour to El Limon waterfall on horse.
Free drinks and the Traditional Dominican Lunch.
CONS:
The excursion is very long, so make sure you sleep well the night before.
The excursion is not recommended for people with heart or back problems.
Pregnant women or people with physical disabilities should not participate in this excursion.
Book your unique Punta Cana whale watching experience now!
Reviews: 4
Exceptional! 5/5
Add Review