Saona Island: Caribbean Paradise
Close your eyes and imagine yourself resting on the snow-white beach, with the cristal turquoise sea water touching your toes and the coconut palm tree casting a shade on your face… Open your eyes: It is all true! Welcome to Punta Cana Saona island – authentic Caribbean paradise and the largest island of the Dominican Republic!
We provide you with an opportunity to visit this famous island and enjoy its beauty, practice snorkeling, as well as try refreshing coconut water! Moreover, we stop at a precious natural Blue Lagoon where you can observe wonderful creatures of nature – sea stars. You will be treated to a Traditional Dominican Lunch and free beverages on board the boat. Transportation from your hotel or any pick-up point in Bavaro/Punta-Cana is included.
Excursion Program
Departure from the pickup point
We provide pick-up/drop-off from any hotel of Bavaro/Punta Cana touristic zone and take you to the port from where your Caribbean paradise adventure starts. We usually pick you up at about 7.00 a.m., depending on your location.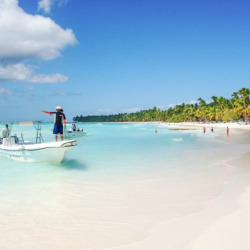 Breathtaking Views
Enjoy the ocean breeze and crystal turquoise water of the Caribbean sea on your way to the island.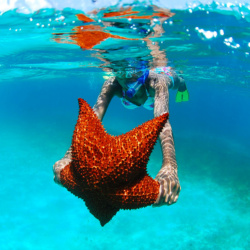 Blue Lagoon and Sea Stars
See one of the most wonderful creatures of the submarine world - sea stars, inhabitants of the Blue lagoon where we stop for about 45 minutes.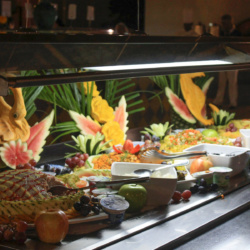 Traditional Dominican Lunch
Treat yourself to the Traditional Dominican Lunch, including the most famous local dishes made of chicken and fish.
Saona Island
Swim and snorkel in the crystal turquoise water, chill on the white beach, drink coconut water, buy local souvenirs and feel yourself like a star on Punta Cana Saona Island!
Schedule
Sunday,  Monday, Tuesday, Wednesday, Thursday, Friday, Saturday 

Approximate pickup time from your hotel or pic-up point: 7.00 AM (depends on your location)
Duration: 9-11 hours
Maximum number of participants: it is a group excursion, with the maximum number of participants being about 30-40 people
What to bring: swimming suit, sun protection cream, sunglasses, photo camera, hat, good mood.
What's included in a Trip to Punta Cana Saona Island? 
+ Comfortable transportation, alcoholic and non-alcoholic drinks.
+ Unique swimming and sightseeing experience.
PROS:
Unique swimming and sightseeing experience
Opportunity to party aboard the boat with free drinks and good music
Opportunity to visit one of the most famous Caribbean islands
Free Traditional Dominican Lunch
CONS:
It may be very hot and sunny aboard the boat and on the island, so take a hat and sun protection cream with you.
If you suffer from seasickness, make sure to take necessary medication.
Book your excursion to Saona: Caribbean Paradise now!
Reviews: 8
Exceptional! 5/5
Add Review