Jet Skiing Punta Cana – Best Jet Ski Tour in the Dominican Republic – Cayo la Bocaina
Chat with our Consultants!
Do you want a truly exhilarating journey that will leave you with lifelong memories? Join our 2 hour jet ski tour, which will not only provide you with an adrenaline rush but also introduce you to magnificent locations in the Dominican Republic!
We all know that jet skis are prohibited in Punta Cana, but finally, you have the opportunity right from Cabeza de Toro, Punta Cana, Bavaro, or Uvero Alto to embark on a jet ski tour in the picturesque location of Cañita De Sabana De La Mar.
Your adventure will begin with a comfortable transportation pickup. The journey to the starting point will take approximately 1.5 hours as we head towards Cañita, near Sabana de la Mar. The road takes time, but magnificent landscapes will accompany you on the way to your destination. It will be a beautiful mountainous area where you will be able to see the popular Montana Redonda during the journey. Upon arrival, you will receive a briefing instruction to ensure your safety, and then you'll hit the water!
Experience the thrill of exciting riding in open waters on a jet ski at Cayo la Bocaina, a beautiful key surrounded by mangroves. Zoom across pristine waters and let your heart race while exploring the breathtaking landscapes of the Dominican Republic. The sea here is calm, making it the ideal place for a safe adventure.
After that, we will make our way to the Natural Pool, enjoying a fast and thrilling ride on a jet ski. Admire the beauty of the Natural Pool, created by nature itself. Here, you'll have a stop where you can see starfish and swim in the crystal clear waters.
After such an exhilarating and emotional journey, which includes about 1 hour of pure jet ski riding and visiting beautiful spots, it's time to refuel! We'll provide a snack of nachos and sauce, along with water to keep you hydrated throughout the adventure.
Get wet, get wild, get jet skiing! An adrenaline-packed aquatic adventure awaits you!
Punta Cana Jet Skiing Program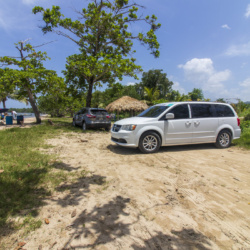 Comfortable Transportation
The trip begins with comfortable transportation, which will take about 1.5 hours (depending on your location). During your journey, you will admire the picturesque views as you head towards Cañita De Sabana De La Mar. Upon arrival, you will receive a safety briefing to ensure that your trip is not only exciting but also safe.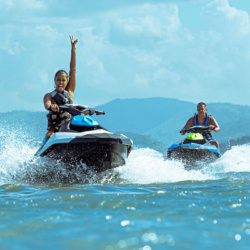 Jet Ski Thrills at Cayo la Bocaina
Enjoy an exhilarating ride in open waters at Cayo la Bocaina! This beautiful key is surrounded by mangroves and features breathtaking landscapes where you can speed across transparent waters and let your adrenaline soar.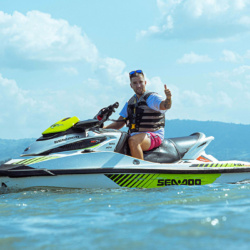 Natural Pool Stop
Then we will head to the Natural Pool, reveling in a thrilling jet ski ride. Here, we will stop to swim in the pristine waters, observe the sea starfish, and enjoy the amazing coastal views.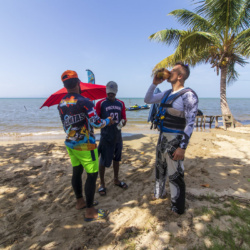 Snack Break
After a journey filled with thrilling emotions and excitement, it's time to recharge! We'll provide a snack of nachos with sauce and refreshing water to enhance your trip even further.
Jet Ski Excursion Details
Approximate pick-up time: 9:00 AM varies depending on your location)
Total duration of the excursion: ~ 5 hours (including transfer time). Actual tour time: 2 hours.
7 state-of-the-art Jet Ski units available for the tour
Tour price: 2-Seater Jet Ski – $386 (for two persons), 1-Seater Jet Ski: $333.
What to bring: sunscreen, swimsuit, towel, camera or phone, and money for personal expenses
Kids aged 8 or older can join the tour; the person driving the jet ski must be at least 18 years old.
To ensure the safety of all participants, we kindly request that individuals under the influence of alcohol or any prohibited substances do not participate in the Jet Ski tour
For the well-being of expectant mothers and their unborn children, we do not accept pregnant women on the Jet Ski tour
During our jet ski, the safety and enjoyment of all our guests are our top priorities
Transportation is included for Cabeza de Toro, Punta Cana, Bavaro, and Uvero Alto. Additional charges may apply for other regions; kindly get in touch with us for specific pricing details.
What's Included in the Jet Ski Tour
Comfortable air-conditioned transfer
Guided tour with experienced staff
Visit La Bocaina Key and the Natural Pool
1 hours Jet Ski ride
Snacks including nachos with sauce and water
Safety briefing
Life vests
Book your jet ski tour from Punta Cana now to ensure yourself an adrenaline rush and thrilling experiences during your vacation in the Dominican Republic.
There are no reviews yet. Be the first!
Add Review