Boca de Yuma. Local Historical Experience
Chat with our Consultants!
Are you fond of history and local experience? Would you like to feel like a professional exlorer who visits the sites hidden from the eye of a typical tourist? Do you want to enrich your stay in the Dominican Republic with a real adventure? Go Boca de Yuma and get it all!
On this excursion, you will discover the Dominican Republic in its "raw", authentic form, visiting sites in the surroundings of Boca de Yuma. You will be transported in air-conditioned guided buses through the country side to get to the most historic sites in the eastern Dominican Republic. This unique local historical experience will take you back in time to when the natives and the Spaniards were the only ones on the island of Hispainiola.
Boca de Yuma Excursion Program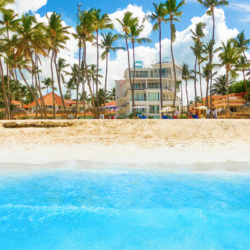 Departure from the pick-up point
Our tour includes pick-up/drop-off from any hotel or pick-up point of Bavaro/Punta Cana and transportation with expert drivers and professional guides.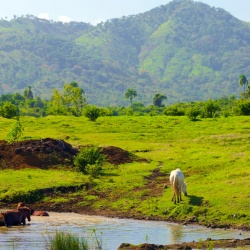 Dominican Rural House
Be authentic! Start your local experience by visiting a rural house with a medicinal plant garden. See sugar cane plantations and learn about country living, santeria and local cock fighting traditions. Taste a welcome drink, as well as different varieties of tea and coffee.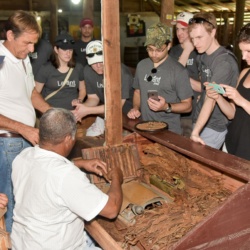 Juan Ponce de Leon's House
See the ruins of the house where Juan Ponce de Leon, the discoverer of Puerto Rico, lived over 500 years ago.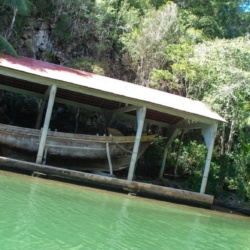 River Walk
Enjoy a real adventure - a river boat ride through a natural Pelican Sanctuary. Take advantage of the opportunity to see iguanas, water birds and other wild species in their natural environment.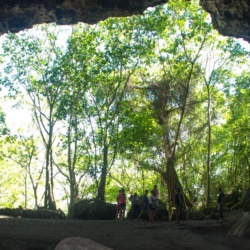 Berna's Cave
Visit the cave where Sir Francis Drake is said to have hidden from the Spanish. This cave has not been fully explored yet, so you have a chance to build your own version of how the pirate's story was developing. See real hieroglyphs inside the cave and varied rock formation.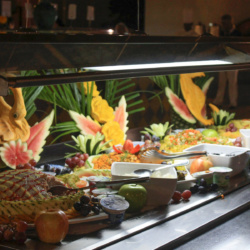 Traditional Dominican Lunch
After the boat adventure and cave expedition, have a delicious local lunch on the edge of the water where the sound of ocean waves will serenade you - a true experience for all your senses. Enjoy tropical fruits and Dominican coffee.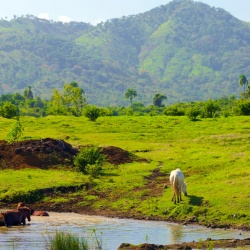 Local Landscape
Get ready to be overwhelmed with emotions throughout the way: you will observe sugarcane fields and the Bateys where thousands of Haitian workers live. Amazing rural landscapes won't leave you impartial!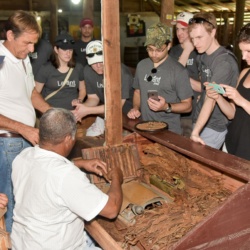 Cigar Factory
Learn how to roll cigars at a local tobacco factory, where you will get to know the most interesting facts about the cigar's history.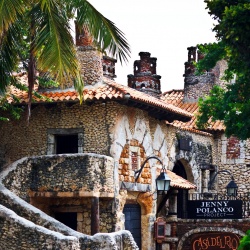 City Life
On your way back home, you will pass through the city and have a look at the National Basilica and the local boys' Shelter. Each participant of the excursion makes donation in food to the Foundation.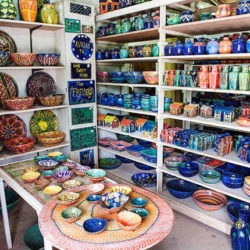 Souvenirs
To remember this trip for long, buy some local souvenir at the lowest price in a local shop.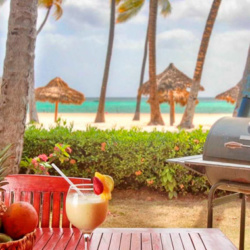 Free Drinks
Don't forget, this is an all-inclusive excursion, so drinks are provided throughout the journey!
Boca de Yuma Excursion Details
Approximate pick-up time from your hotel or pick-up point: 8:00 a.m.
Duration: 8-9 hours
What to bring: comfortable footwear, sun protection cream, camera, some money for shopping, sun glasses.
Unique local historical experience
Traditional Dominican Lunch is included
Free drinks are included
SPECIAL RULES:
Pregnant ladies are not permitted to take this tour.
Any person with back complications should seek professional advice before taking this tour.
PROS:
Enjoy the unique local historical experience
See authetic Caribbean country and city life
Have a boat adventure
See National Basilica
Professionally trained multilingual guides tell you about the history, culture, plants and animals and the way that Dominicans have lived for over 500 years
CONS:
Any person whose age, physical or mental condition presents a safety risk will not be allowed to participate
There may be a lot of people participating in this excursion
There are no reviews yet. Be the first!
Add Review