POWER DIVE – Power Adventures Punta Cana
Chat with our Consultants!
The most simple and amazing way to discover the incredible submarine world of Punta Cana, an unforgettable experience without the hassle of long training, expensive courses or heavy and complicated equipment. Discover power adventures Punta Cana! Combination of the easiness of snorkeling with the emotion of diving, taken care by our experienced instructors that will guide you through the extensive aquatic life of the Bavaro coral reef. Power Dive is an activity for the whole family offering safety and comfort underwater, without the need of previous experience. You are going with the same catamaran and that's the list of activities that power adventures Punta Cana tour offers.
Excursion Program
Departure From the Pickup Point
Power Adventures Punta Cana tour includes pick-up drop-off from any hotel or area of Bavaro/Punta Cana in modern buses with expert drivers, accompanied by a professional multilingual guide.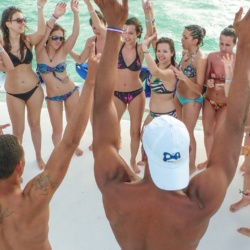 Games and Animation in The Natural Pool.
Enjoy and have fun with animation in the Natural Pool. WOW experience! Drinks on board and outboard. Fun for all the family and friends. These are amazing and fun emotions, party, swimming, and snorkeling. All fun here.
CATAMARAN SAILING – Party boat / SNORKELING 30 MIN / HOOKA DIVING 20 MIN /  NATURAL POOL/ OPEN BAR
Schedule
Monday-Sunday (Every day)
Morning shift 9:00 – 12:45
Afternoon shift 2:00 – 05:45
DETAIL OF ACTIVITES TIMED BASED (REFERENCIAL)
Morning/Afternoon
9:00 / 2:00 – Arrival to the beach base.
9:10 / 2:10 – Welcome, register, and boarding.
9:20 / 2:20 – Cruise through the coast of Bavaro, explanation of safety rules and crew presentation.
9:45 / 2:45 – Arrival to the point of aquatic activities. Start of the three activities with rotation amongst the riders. (Snorkeling / Hooka Diving )
11:15 / 4:15 – Cruise to the Natural Pool
11:30 / 4:30 – Games and animation in the Natural Pool. Drinks served on board and outboard.
12:00 / 5:00 – Cruise along Bavaro´s coastline with final destination the base.
12:30 / 5:30 – Arrival to the base.
12:45 / 5:45 – Boarding time for shuttles back to hotels.
Attention: the second turn depends on the season.
Duration – 3.45 hours.
What's included? 
+ Transportation
+ Equipment for snorkeling, hookah diving, life jackets.
+ Alcoholic and non-alcoholic drinks. Such as Coca-cola, Sprite, Presidente beer, water, Rum, variety of juices according to the season.
+ Snack (nachos with cheese are provided)
WHAT TO BRING
– Beach clothes
– Swimming suit
– Towel
– Sunscreen
– Some cash
– Sunglasses
– Good mood
Cons:
Pros:
+ Amazing fun activities
+ A lot of fun
+ Active
+ A lot of activities in one trip
+ You don't need to spend hours to study how to dive. Can go without any experience.
Book your unique Power Adventures Punta Cana Tour now!
Reviews: 1
Exceptional! 5/5
Add Review