Last minute deals to Punta Cana – Hot offers for your winter holidays in January-February 2023
Are you still wondering where to spend your winter holidays in January-February 2023? We know a place with perfectly blue skies, crystal-clear water, tall palm trees, and tender sunshine.
Punta Cana is everything you can imagine when you think about tropical paradise and even more. We have picked up some Punta Cana villas still available on winter holidays for a reasonable price. So take your time to imagine a perfect winter vacation while we help you to find a perfect place to stay in Punta Cana!
Sit back and pick your best option while we offer you the best Punta Cana villas and studios. Check these last minute deals for January 2023 in the Dominican Republic.
Hot villas offers for your winter holidays 2023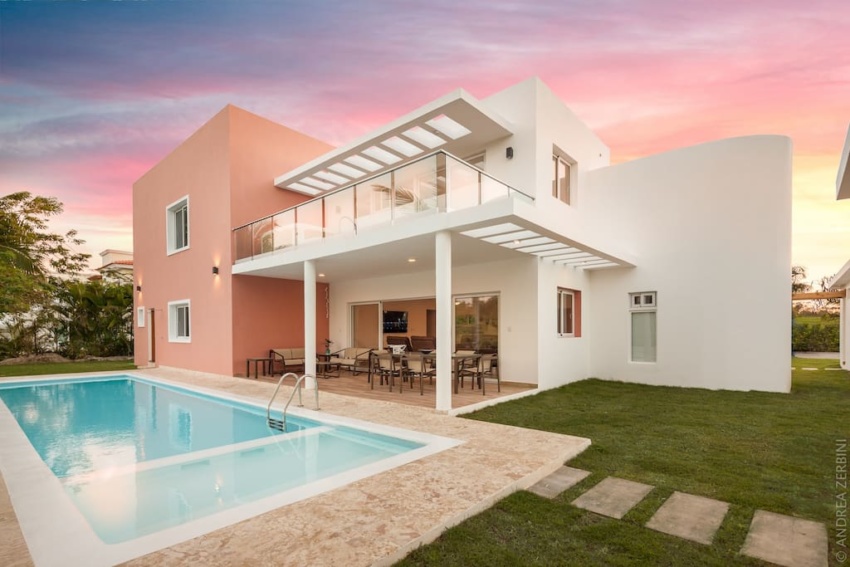 Villa Moderna at Iberostar Bavaro Golf Club is undoubtedly one of the most beautiful places out there! The villa is located next to the heavenly beach of Bavaro. If you want to discover the town of Bavaro nearby, we can help you to rent a car or pre-arranged transportation service, and you can easily get around.
If you are a golfer, you got extremely lucky! There are 10 golf courses located within a 45/60-minute drive from the villa. Particularly, you have 4 "must-see, must play" ocean view courses including La Cana, Corales, Teeth of the Dog and #1 ranked golf course in the Dominican Republic, Punta Espada.
Villa Casa & Co at Puntacana Resort & Club has a range of exclusive 5-star services readily available. Villa is located very close to the amazing beach of Playa Serena with shallow ocean and perfectly white sand. Moreover, you can enjoy the ocean view right from your balcony of the villa. All you need is to take a quick walk along the golf course and you are swimming in the ocean in no time.
Furthermore, the Villa Casa is located on the La Cana golf course with ocean views. Besides, if you are up to some fun beach adventure, you can easily go to Playa Blanca Beach Club, which is also inside the resort. Therefore, Villas Casa is a perfect place for a family vacation, each member of the family will enjoy themselves here. Apart from this, if you prefer you can hire a personal chef to cook for you and a nanny to look after your children to make your vacation easier.
Villa Pandora is a luxury beachfront villa located right on the magnificent Los Corales Beach. It is a perfect option if you want to feel like a local in Punta Cana. Within a few minutes walking there are restaurants, bars, supermarkets, gym, spa & salon, etc.  And, of course, the beach! The villa is literally on the beach.
You step out of your villa and step right on the sand. Just a few steps more and your feet are in the ocean. Villa Pandora is an impressively gorgeous place that resembles a Miami-style luxury mansion. This villa is the essence of modern minimalism mixed with the best of the Caribbean – the most beautiful ocean view!
Villa Las Cañas 20 at Casa de Campo Resort has been a favorite luxury destination for precise travelers and celebrities from all over the world for many years. You can enjoy a private swimming pool, a huge private backyard with a green lawn area. Moreover, you will have a golf tour cart included in the villa rental so you can easily go to the beach, golf courses, etc. It is a perfect option for big families or the big company of friends. At Villa Las Cañas you can enjoy this private oasis, spend your vacation around the pool in the sunshine and forget about all your troubles.
Cheap apartment deals for January 2023
Piazetta 1C – gorgeous modern 3BR apartment just a few steps away from Los Corales beach. Living in the Punta Cana apartment, you get a chance to feel like a local. Within 3-7 walking distance, you will get access to all sorts of restaurants, supermarkets, grocery stores, bakery, and so on.
Oreuga A – private Studio right on Bavaro Beach is everything you ever wanted. This cozy private studio is located just two steps from the most gorgeous and popular beach Bavaro. The condo is perfect for up to 4 people. It is rather small, but exceptionally cozy and just 2 minutes away from the Bavaro beach!
Sortoson C5 – one more modern studio for rent in Punta Cana. This condo is a perfect getaway for the two of you. Tidy, fresh, and new studio just a few steps from the beach. You can enjoy your winter holidays there with your beloved one right in the picturesque tropical oasis.
Come and enjoy everything the Caribbean can offer!
Why hesitate? Book your unforgettable Punta Cana villas for the winter holidays now!
Updated on: . Author: Mark Vasiliy Smetanin