Caleton Residences in Cap Cana –
The Best Villas and VIP Facilities
Caleton Residences in Cap Cana is an elite and one of the best luxury resorts built by Donald Trump in collaboration with the Ritz. It is a short drive from the world-famous resort of Punta Cana.
Cap Cana as a stunning travel destination
in the Dominican Republic
Such a man-made paradise is located on the east coast of the Dominican Republic. It is a fashionable and luxurious resort with 5-star hotels and villas that are located among first-class golf courses, marinas with yachts and boats, among gourmet restaurants, divine spas, and elegant designer boutiques.
It was built quite recently, but already has a reputation as one of the most expensive holiday destinations on the entire coast of the Atlantic Ocean.
1. Facilities and infrastructure of Cap Cana
The town of Cap Cana is located on the eastern coast of the Dominican Republic, and it is only a seven-minute drive from Punta Cana International Airport (PUJ). The infrastructure of this area includes its own power plant, 77 kilometers of excellent roads, an irrigation system, and sanitary networks. The total area of the resort is 120 square kilometers, and the length of the coastline is about 8.
2. Why real estate is expensive in Cap Cana
This area is an upmarket neighborhood for the wealthy, with an average property worth nearly a million dollars. Entry into the territory of Cap Cana is only by passes, and an ordinary tourist will not be able to get into this "palm and sandy paradise", unless, of course, they live there in one of the hotels of this "town of millionaires", standing in a quiet harbor on a long white beach called Juanillo.
Rich people live here. And this is not a mass, not pretentious, but a calm, high-quality vacation, where such personalities as Julio Iglesias, Oscar de la Renta, and the Ranieri family invest money. It is said even Donald Trump was one of the investors. On the golf courses, for example, Trump was often seen with a club long before he moved to the Oval Office in 2017.
3. Cap Cana & World-famous golf courses
In addition to coral reefs and white beaches, the Dominican Republic is famous for its golf courses, and where there is good golf, there is business, politics, and money.
Golf is the pride of this destination. There are magnificent green lawns where high-ranking and authoritative guests play. Most come here to play on the Punta Espada and Las Iguanas golf courses, designed by Jack Nicklaus.
Both were named among the best courses in the Caribbean, home of golf that even hosted PGA championships. Of special note are the magnificent Corales courses designed by Tom Fazio and La Cana by golf architect P.B. Dye.
4. Where to stay in Cap Cana
All places to stay here are 5-star and deluxe. Accommodation is possible both in luxurious rooms equipped with swimming pools, jacuzzies, saunas, and other luxury attributes, as well as in bungalows, villas with a small private beach. Many of them have an all-inclusive system.
Ordinary travelers can also come to this exclusive world-class town. As for tourism, there are not as many hotels and resorts here as in neighboring Punta Cana, but they are all worth every penny spent:
Eden Roc and Fishing Lodge,
Sanctuary Cap Cana and Golden Bear Lodge,
TRS Cap Cana Hotel,
Villas at Caleton Residences,
Secrets Cap Cana Hotel,
Hyatt Zilara and Hyatt Ziva.
Tropical Caleton villas in Cap Cana deserve special attention, they are in extremely high demand here. You can find the best of them and their features below.
Caleton Residences in Cap Cana
First of all, this is an exclusive boutique hotel for those who prefer high standards of luxury in the most beautiful villas and bungalows with stunning views of the Caribbean Sea and the famous Punta Espada golf course.
The club is also home to the unique and exclusive Caleton Spa, where service exceeds all expectations, bringing clients into a state of ever more refined indulgence.
Active recreation and pastime at the hotel
On the territory of the resort there are 3 golf courses designed by Jack Nicklaus (the hotel is located at Punta Espada Golf Course), a harbor with a marina for 150 yachts, water sports, diving, boat trips, sailing excursions are offered.
The resort's 14 restaurants and bars range from the Davie Crockett Grill to the gourmet Amacord Italian gourmet restaurant. Nearby restaurants are Mediterraneo Restaurant, Blue Marlin, La Palapa, La Taberna De Charlo, and El Portico.
The golf club has a restaurant, a snack bar, and the Hole 19 bar.
Casino Dominic in Cap Cana
Its full name is Dominic Casino & Lounge Club. What is in the casino? Blackjack, slots, american roulette, three card poker, texas hold'em, caribbean stud poker. All hotels have shuttles that will take and bring you to the Dominic casino at any time, where the slot machines are open from 6 p.m. to 3 a.m.
Luxury villas on the territory of
the Caleton Residence
Caleton Residences in Cap Cana is a value-for-money luxury hotel. It has 19 luxurious villas and bungalows, immersed in emerald tropical greenery and overlooking the ocean. Each villa has an individual design, several bedrooms, a living room, a kitchen, and a spacious terrace with a swimming pool.
Also at guests' disposal is an excellent infrastructure of the resort, where there is everything for an active and comfortable stay. Caleton Residences in Cap Cana is a real gem in the collection of a prestigious Dominican resort.
Atmospheric villa in Bali style
A chic 5-bedroom villa with a huge pool, located among lush tropical greenery next to a white sandy beach. It combines exquisite colonial style, elegant design, modern comfort, and Caribbean exoticism. The center of it is made for entertaining and has a spacious "palapa" with sofas and a dining table. It offers personal butler service and golf carts.
The villa is located near the 14th hole of the Punta Espada golf course.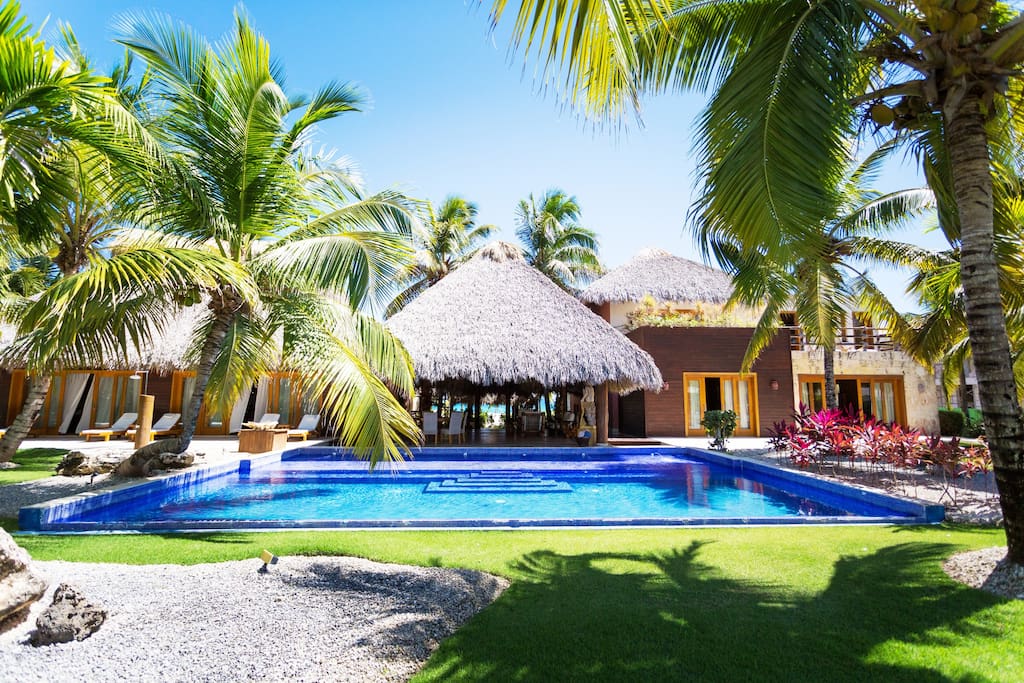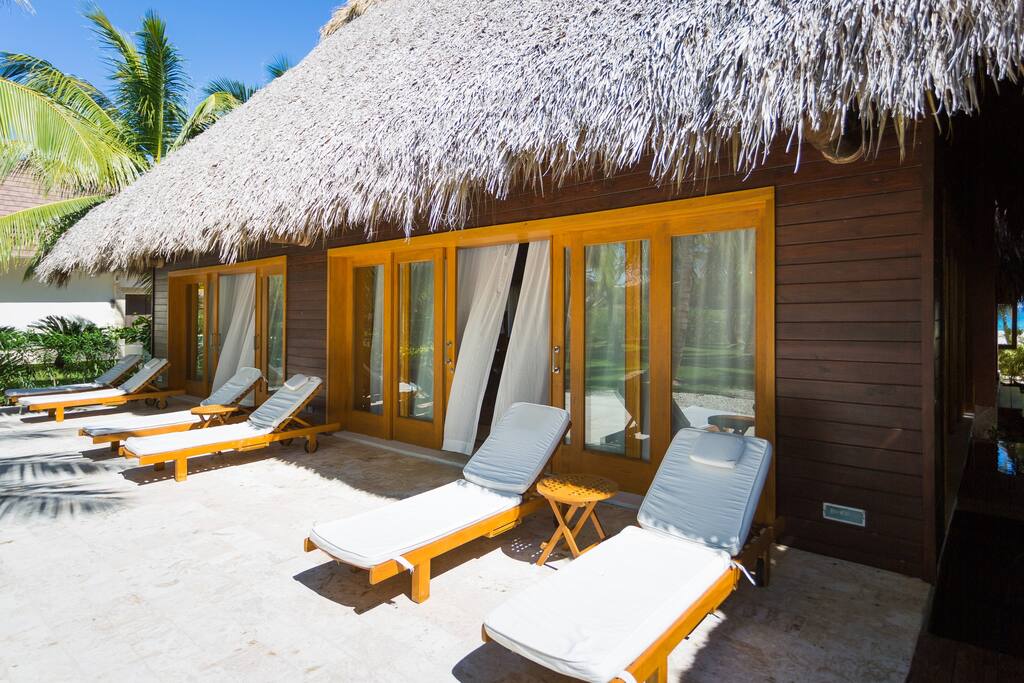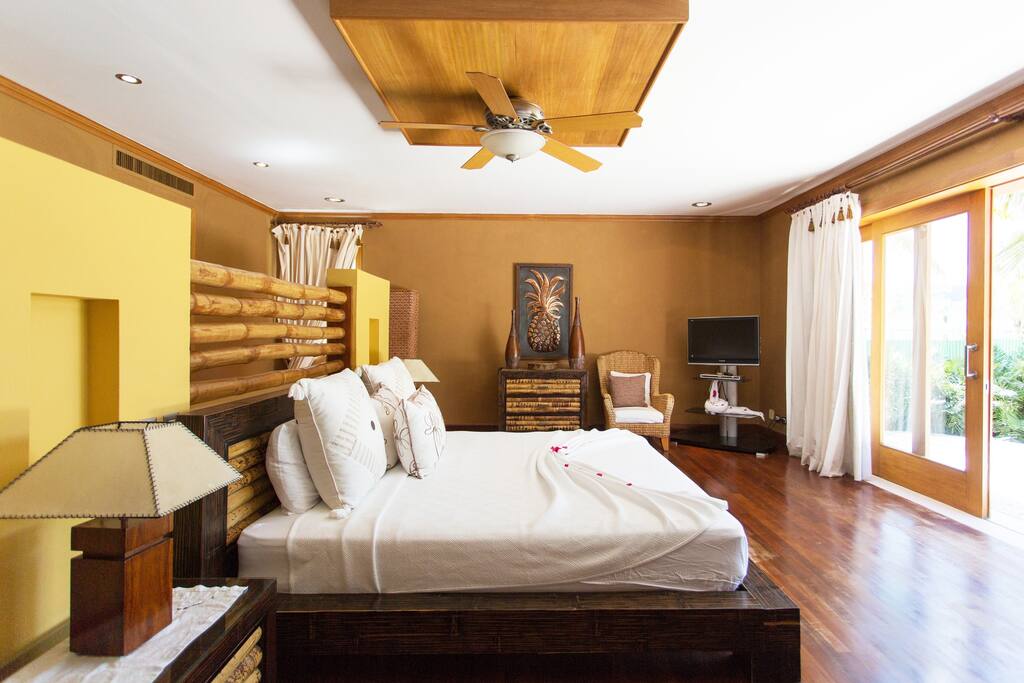 Villa in Cap Cana on the ocean
Tropical villa with direct ocean access and breathtaking golf course views. Additionally, there is a swimming pool and jacuzzi on site. The villa has 5 bedrooms, each with air conditioning, a covered terrace, sun loungers, and more.
The villa is located near the 11th hole of the Punta Espada golf course. Residents of the villa have access to the Eden Roc Beach Club, as well as golf carts for easy movement around the Caleton Residences in Cap Cana.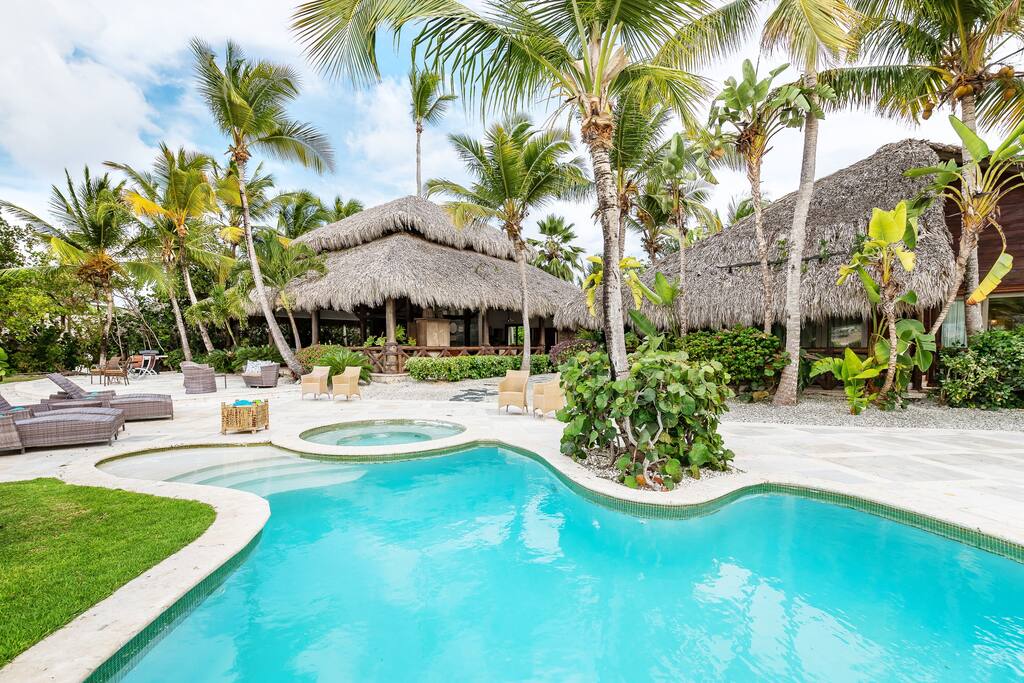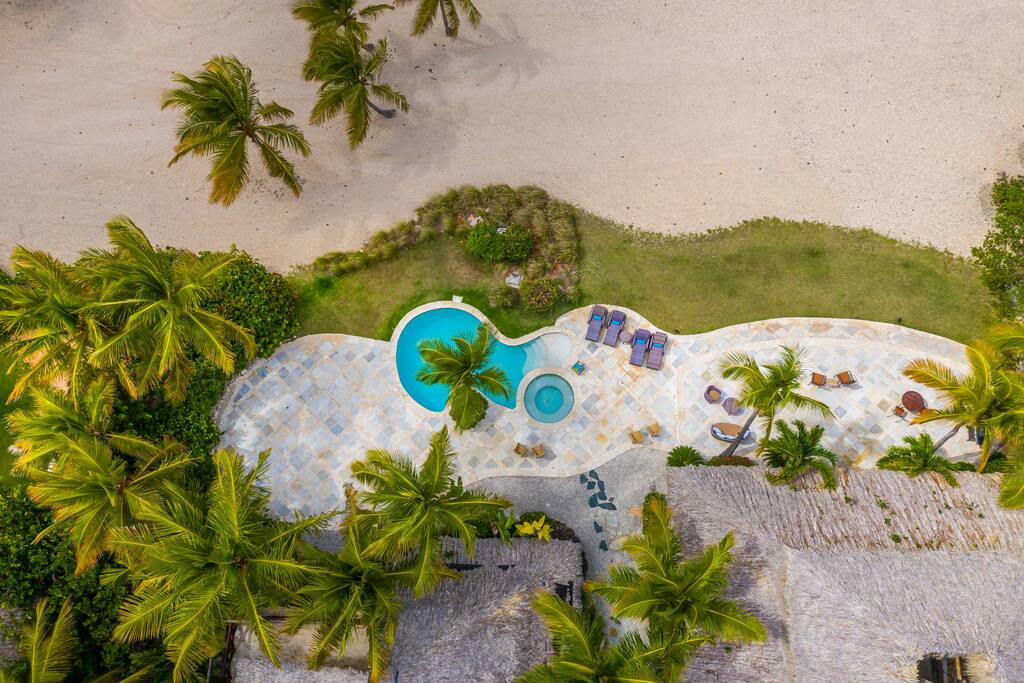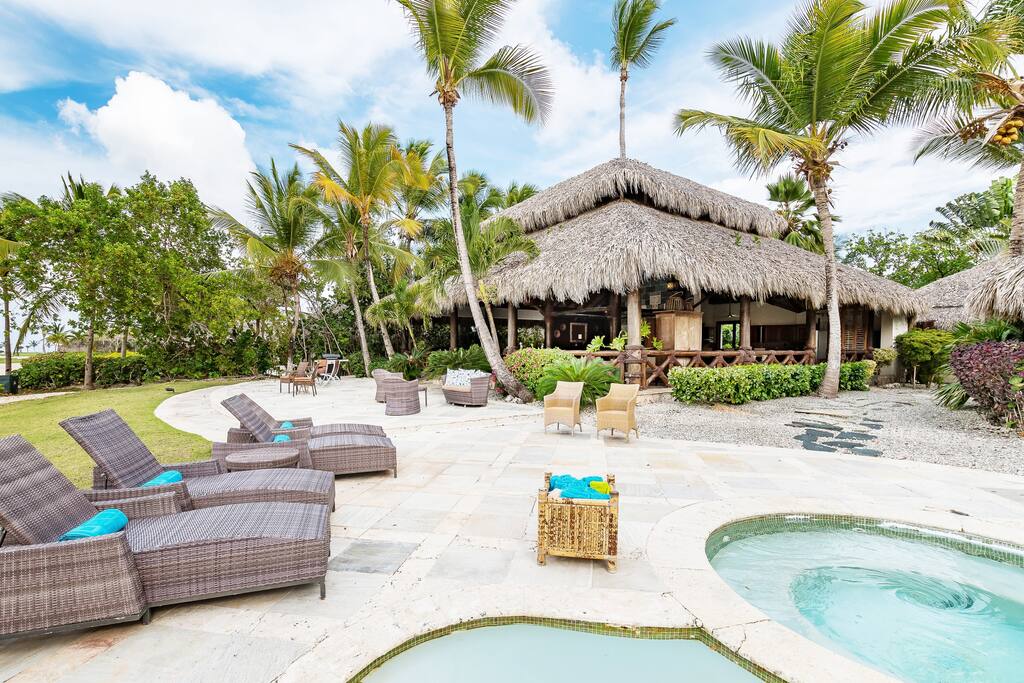 Caleton beach in Cap Cana
This magnificent place is rightfully included in the list of the most beautiful beaches in the Dominican Republic. It is the elite private beach of Caleton Residences in the Cap Cana complex, founded by US billionaire Donald Trump.
Features of Caleton Beach
It is located on the shores of a sky-blue lagoon. Caleton beach is framed by thickets of palm trees and picturesque rocks. A wide white sand strip with sprawling, green palm trees, washed by turquoise sea waters. Nearby are a small wooden gazebo and emerald golf courses, a swimming pool, palm groves, a restaurant, and a luxury lounge. All this, combined with the azure water of the lagoon and white sand, creates a stunning landscape.
Weddings and honeymoons on the beaches of Cap Cana
Caleton Beach is in great demand for exclusive parties, day and night photo shoots, including symbolic wedding ceremonies. Due to the beautiful nature and romantic atmosphere, Caleton beach is popular for relaxing with lovers and honeymooners. The ceremonial wedding hall for the newlyweds usually becomes the Caleton or Juanillo beach, considered one of the most beautiful in the Dominican Republic with perfectly white fine sand and turquoise water.
To sum up the above
The Dominican Republic has a large selection of luxury residences that will suit even the most demanding guests. Tropical villas at Caleton Residences in Cap Cana are located in the middle of the Punta Espada golf course and next to the warm ocean. You will get all the best, first-class rest, complete privacy, and services for every taste and color. Here you will feel comfortable in any of the villas, and your vacation in the Dominican Republic will remain unforgettable.
Updated on: . Author: Karina Volf