Truck Eco-Expedition by Scape Park
Are you looking for entertainment, adventure, and local experience? You can get it all during the Truck Eco-Expedition by Scape Park! The tour features a funny and amusing expedition on a safari-style truck, that will take you to picturesque Cape San Rafael to take stunning pictures, to a typical rural house to discover how a Dominican peasant lives and try local produce from the backyard, to a great cascade nestled in a gigantic cliff to cool off and chill in the refreshing waters. The tour is full of entertainment, fun, and interesting information about the local culture and Dominican life. Moreover, this tour can be combined with other excursions by Scape Park!
Excursion Program
Departure from the pickup point
Our tour includes pick-up/drop-off from any hotel or pick-up point of Bavaro/Punta Cana and transportation in modern buses with expert drivers.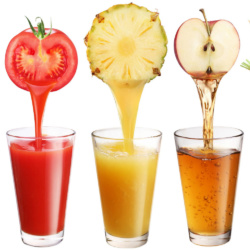 Safari-Style Experience
Feel the breeze and the sunshine while you are exploring the beauty around and enjoying the free drinks (purified water and juice) on the back of a safari-style truck, accompanied by a cheerful, friendly, and knowledgeable guide.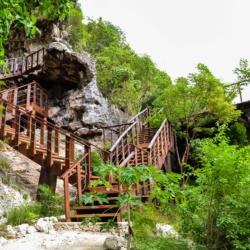 Cape San Rafael
The first stop is at Cape San Rafael, where you can take some amazing pictures or just observe the spectacular scenery.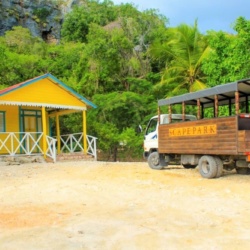 Dominican Ranch
The next stop is at a typical rural house, where you can discover how a real Dominican peasant lives and taste fresh local produce right from the backyard. At the ranch, you will be also invited to drink some organic coffee and hot cocoa.
Cascade
And finally, on the way back from the ranch, the truck will stop at a stunning cascade nestled in a gigantic cliff. You'll have time to cool off and relax in its refreshing waters.
Schedule
Sunday, Monday, Tuesday, Wednesday, Thursday, Friday, Saturday
Approximate pick-up time from your hotel or pick-up point: 8 a.m./2 p.m.
Duration: 2,5 hours (+ about 30 minutes for transportation)
What to bring:  Swimsuit, towels, money, sun protection cream, good mood.
What's included in the Truck Eco Expedition? 
+ Comfortable Transportation, modern shuttles with AC – two way.
+ Unique Eco and local experience
+ Purified water, juice, fresh fruit
Special Rules:
The company reserves the right to prevent the participation of anyone deemed not fit for the tour as per the tour guides.
For their own safety, pregnant ladies are not permitted to take this tour. Neither is it recommended for people with neck and back problems.
PROS:
Enjoy the unique Truck-Eco Expedition, the one and only in this region
Visit a real Dominicn ranch where you can try fresh produce right from the backyard
Chill in the waters at the cascade
The excursion can be combined with other excursions by Scape Park
CONS:
Any person whose age, physical or mental condition presents a safety risk will not be allowed to participate
Book your unique Truck Eco Expedition now!
Reviews: 2
Exceptional! 5/5
Add Review