Let us invite you to the world-famous number one Outback experience from Punta Cana! Why is it number one? Because it includes an amazing opportunity to learn about Dominican culture, customs, history, flora and fauna, and have a lot of fun!
You will have a chance to visit a local school, coffee and cacao plantations, a local family living in their typical country house, and try exotic organic food. Besides, you will be able to enjoy a delicious lunch observing unforgettable views from the hill top. To top it off, discover wonderful species of flora and fauna at the Iguana Ranch, such as iguanas, turtles, crocodiles, alligators, donkeys, goats, and aquatic birds.
Looking for some more local experience? Welcome to the Coconut stop, where you will find out all about this miracle nut and its use. And finally, to make this day unforgettable, we will take you to the picturesque beach for boogie boarding! Take advantage of its all-inclusive excursion that features free drinks all day long, endless emotions and impressions! Enjoy your Outback experience from Punta Cana!
Excursion Program
Departure from the pick-up point
Our tour includes pick-up/drop-off from any hotel or pick-up point of Bavaro/Punta Cana and transportation in safari-style trucks with expert drivers and professional guides speaking English, Spanish, French and German.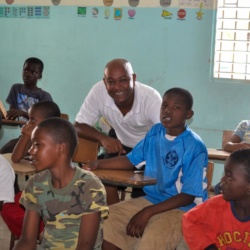 Local School
Our first stop will be at a local school where you will learn about the Dominican educational system.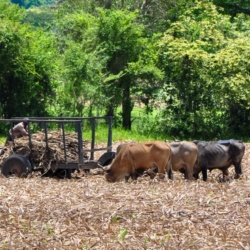 Iguana Ranch
Visit the Iguana Ranch where you will see exotic animals, such as crocodiles, iguanas, alligators, flamingos and more, and gardens with medicinal plants, local fruit trees and plants. Besides, you will see hand-rolled cigars, local craft, as well as learn about sugar cane history and products.
Traditional Dominican Lunch and Free Drinks
Enjoy the typical Dominican lunch at a family style buffet. By the way, free drinks are served throughout the journey.
Local Shopping
Shopping at a local rum shack with the most popular typical Dominican souvenirs, such as rum, cigars, and coffee. All at local prices and with live demonstration of the mastership of the cigar roller, artist painter, or rock carver.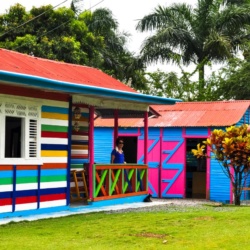 Country House
Visit a typical country house where you will have a chance to learn about the daily life of local people.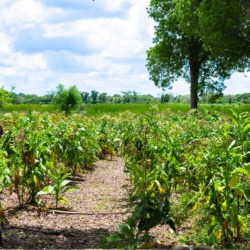 Plantations
Then, you will have a chance to explore local coffee and cocoa plantations and learn everything about how organic chocolate and coffee are grown and processed.
Boogie and Beach
To give an adventurous touch to your Safari experience, we will take you to the beach where you will get safety instructions about how to use boogieboards and practice this activity in the water. You can also chill on the beach and swim there.
Schedule
 Tuesday, Wednesday (in German only!), Thursday, Saturday
Approximate pick-up time from your hotel or pick-up point: 8:30 a.m.
Duration: about 8 hours
What to bring: sandals or old tennis shoes (they may get wet), sun protection cream, camera, some money for shopping, bathing suit, towel, sun glasses, good mood.
What's included in the Outback Experience? 
+ Unique local Safari experience
+ Family buffet lunch
+ Free alcoholic and soft drinks
+ Boogieboards water experience
Special Rules:
Pregnant ladies are not permitted to take this tour.
Any person with back complications should seek professional advice before taking this tour.
PROS:
Enjoy the unique local experience, combining country, beach, and boogie adventure!
Visit a local school and a country house with plantations
Get to know exotic species at the Iguana Ranch
Learn a lot about the coconut
Swim or relax on the beach
Professionally trained multilingual guides speaking English, Spanish, German (only on Wednesday), and French
CONS:
Any person whose age, physical or mental condition presents a safety risk will not be allowed to participate
There may be a lot of people participating in this excursion
Book your unique Outback experience now!
Outback Experience from Punta-Cana
Become part of the best Outback experience in Punta Cana! Combine country, beach, and boogie! Visit a local school, a country house, coffee plantations, Iguana Ranch and Coconut Stop! A lunch and drinks are served. Transportation from any Bavaro/Punta-Cana pick-up point is included.